Winners:
Bennji8
belu_kill_Hun
darklenoob
MsDazy
EwttoBr
Cookiedo
KAOS_99
sayonara
DDHuynh_1
Thranduil1_1
Gruvfogden
Grinsi_Kleinpo
drummer6
hayze_1
Dementia_ZA
bosunrob
elrey99
panto55
moonlight_17
Morisita_Nobue
Winners will soon be contacted by the USNI.
---
Captains!
Join our new marathon with gifts for players—expect the best episodes of Naval Legends for those of you who haven't seen them, as well as those of you who don't mind watching them again!
Be on the lookout for bonus codes shown in each episode of the historical marathon this week. As with the in-game Daily Shipments, all gifts are revealed in advance!
Watch the first episode and claim your first gift!
Note: the marathon runs from July 27 to July 31. The next episode will be available tomorrow at 13:00 (UTC). The news is updated every day—be sure to stay tuned for further episodes.
YouTube Shipments
During the marathon, you can expect special YouTube Shipments. At the beginning of each episode, we'll post a special bonus code. One bonus code = one gift. As with the in-game Daily Shipments, all rewards are revealed in advance. Watch the marathon episodes, activate the bonus codes, and enjoy the gifts!
Want even more gifts?
Tomorrow we'll publish an episode with a new bonus code! If we manage to get the indicated number of new YouTube subscribers within 24 hours, you'll receive twice as many gifts upon activating the bonus code!
Let's get started! Subscribe to our channel and throw down a like. Have fun!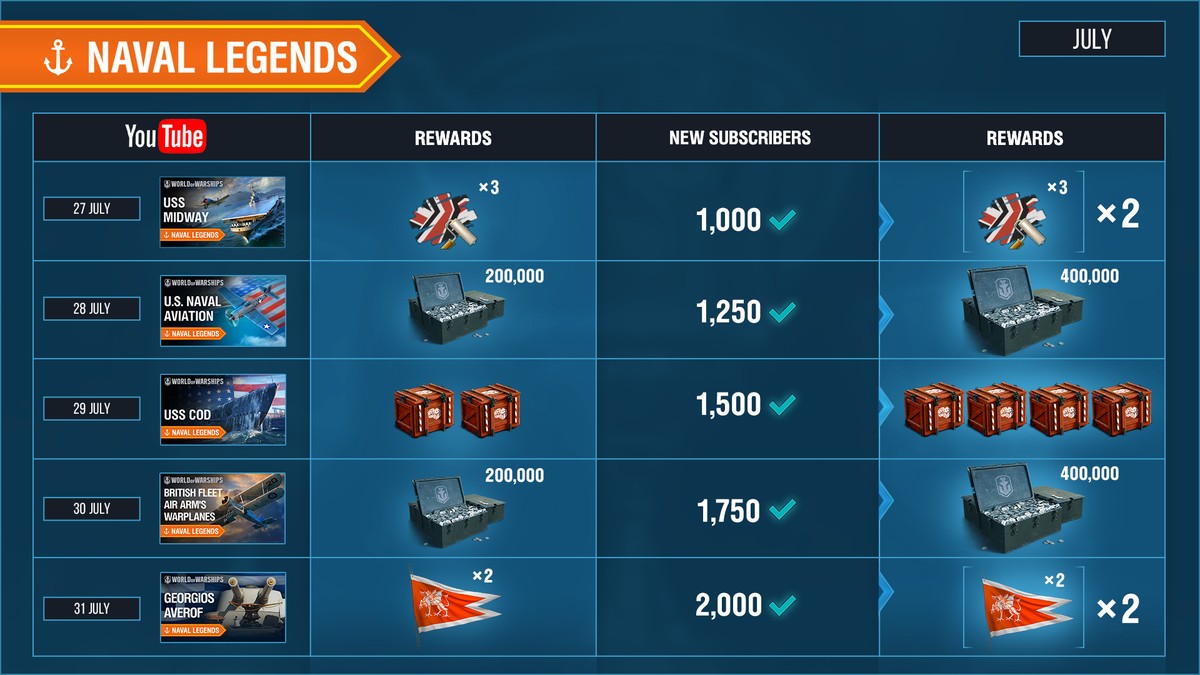 ---
About Naval History

Read battle accounts, analysis of enduring mysteries, essays, and book reviews from the convenience of your computer or mobile device!
Each issue features:
Illuminating profiles of warships, aircraft armaments, and innovations.
In-depth eyewitness accounts of the past.
The latest research that seeks to educate, preserve, and share naval history.
Acts of Valor — Medal of Honor stories in graphic novel format.
Naval History News.
Source: https://worldofwarships.eu/en/news/history/historical-marathon-with-gifts/
---