Captains!
Find out what bonuses and rewards await you next week.
You can find more information about the combat missions, bonuses, and rewards of Update 0.8.11 in a dedicated article.
Hurry to finish the holiday Directives, blow Snowflakes off your ships, complete chains of combat missions for cruiser Gorizia, and obtain lots of gifts!
---
Rewards for Snowflakes
In line with our traditions, ships of Tier V and above feature Snowflakes with holiday bonuses. Throughout Update 0.8.11, the first victorious battles with each of these ships will reward you as follows:
Ships of Tier V–VII will bring you 400-750 Coal.
Ships of Tier VIII–IX will bring you 75 Steel.
Ships of Tier X will bring a Santa's Gift container which can drop doubloons, Free XP, Coal, and other goodies. If luck is on your side, you might even get a Premium ship!

Please note: a Snowflake can be 'blown off' a ship only once during Update 0.8.11.
New Year Directives
The new game event tasks you with completing 82 missions spread across seven Directives. Completing Directives and their missions will bring you rewards, among which the following particularly stand out:
VII Gorizia
The New Year permanent camouflage that can be applied to the majority of Tier VIII ships
4x Santa's Gift containers which have a certain chance of dropping one of the Premium ships
1,950 Shipbuilding Tokens—a resource needed to buy construction boosters for the Dockyard
24x Shipbuilding containers with items from the new collection
9x Port slots
18,180 Coal
2,250 Steel
One Santa's Big Gift container
If you already have Gorizia in your Port, you'll receive an amount in doubloons that corresponds to the cost of the ship as compensation, plus a Commander and Port slot.
The first Directive opens up with the release of Update 0.8.11, once server maintenance is complete. The other Directives will become available on December 17, December 21, December 25, December 29, January 2, and January 7. The Directives will be available for completion until January 14.

Daily Shipments: Claim, Claim, Claim
During Update 0.8.11, log in to the game between December 12 through January 2 inclusive to start getting valuable rewards via the Daily Shipments section.
You can grab a total of 14 rewards, with the Daily Shipments running for 21 days. Thus, you can skip seven days out of the three weeks and still claim all the rewards.
---
Combat missions for Gorizia
Cruiser
VII Gorizia unlocks access to four chains of combat missions. For completing them, you'll be rewarded with four researchable Tier VI ships, two New Year permanent camouflages, and 12 Shipbuilding containers.
End: Thu. 16 Jan. 06:00 CET (UTC+1)
The first mission is completed playing cruiser Gorizia, and the others—playing any Tier V–X ship. The combat missions of the chain can be completed only in the specified sequence: you can start the next part only after all the missions of the previous part have been completed. You can complete each mission only once.
The combat missions can be completed in Operations, Random, and Co-op Battles.
You will receive one Shipbuilding container as a reward for completing each part of the chains.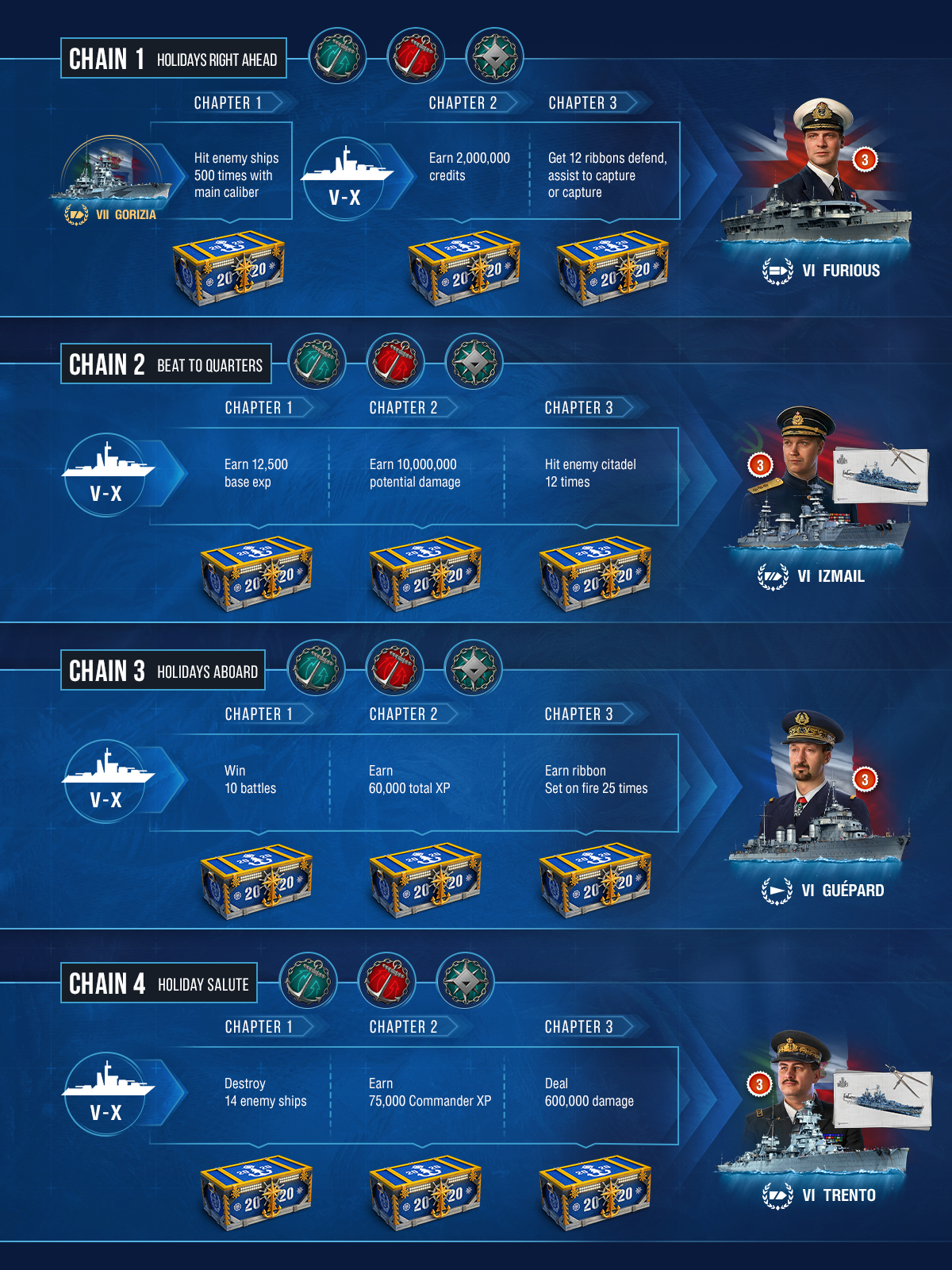 You can possess any number of New Year permanent camouflage patterns. If you receive a ship that you already have in your Port, you'll get compensation in credits, a Commander, and a Port slot.
Shipbuilding container
Each container includes:
An item of the Shipbuilding collection
1x Frosty Fir Tree or New Year Streamer expendable camouflage
100 doubloons; 400 Coal; 1 day of Warships Premium Account; 1,000 Free XP; 2,500 Elite Commander XP; or 50,000 credits
The Shipbuilding collection demonstrates the shipbuilding process, using the example of an American heavy cruiser of the World War II era. The reward for completing the entire collection is a Santa's Big Gift container. Each completed section of the collection will reward you with 1 day of Warships Premium Account.
Items of the collection can only be obtained from Shipbuilding containers.
Source: https://worldofwarships.eu/en/news/sales-and-events/missions-0811-weekly-3/
---