Captains!
Find out what bonuses and rewards await you next week.
You can find more information about the combat missions, bonuses, and rewards of Update 0.8.10 in a dedicated article.
End of the Clan Season Discount
Start: Mon. 09 Dec. 06:00 CET (UTC+1)
End: Mon. 16 Dec. 06:00 CET (UTC+1)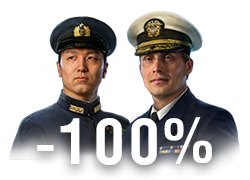 Another Clan Battle Season has reached its end. This means it's time to sum up the conclusions from battles won and lost, and prepare for new online conflicts. To make preparations for the next season simpler, we're providing everyone who has played at least one battle in the "Crash Zone Alpha" Season with the opportunity to reassign their Commanders' skills for free!
---
Pearl Harbor - Fight for Arizona
This weekend, you can charge into battle with your favorite USN and IJN ships. Enter a commemorative clash for camos and Premium Ships!
---
Resolute and Rapid
The Directives can be completed until Tue. 10 Dec. 06:00 CET (UTC+1)
The "Resolute and Rapid" Directives are about to end! Hurry to complete all of them and take your rightful place in the Hall of Fame! In doing so, you'll earn Mediterranean Tokens that can be exchanged for containers in the Armory, as well as complete the collection dedicated to the Italian Navy. Once you've completed the collection, you'll be rewarded with the unique Italian Commander—Luigi Sansonetti.
You'll find a detailed description of the "Italian Cruisers: Part 2" event in a dedicated article.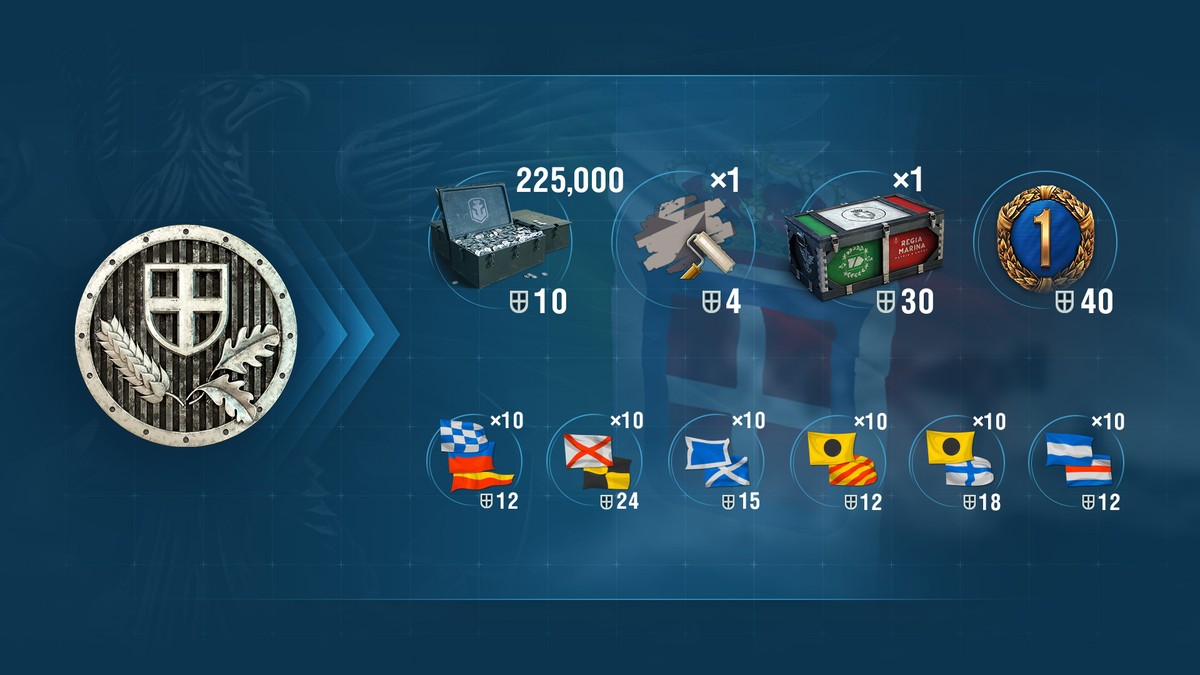 ---
Daily Challenges

Want even more bonuses? Then we've got a set of daily challenges for you—simply complete the daily combat chains. Get economic signals for completing three chains, combat signals for completing nine chains, and special signals for completing twenty chains. But wait! That's not all! In response to the requests of our players, we've added Port slots as rewards—one for each challenge. Thus, starting from December 1, you can earn up to three Port slots per month.
Apart from that, you'll be rewarded with 162 Mediterranean Tokens if you complete all the Daily Missions in Update 0.8.10. You can exchange these in the Armory for "Resolute and Rapid" containers, credits, days of Premium Account, signals, and Regia Marina camos!
Daily Missions
The conditions for completing the chains are:
Each day you'll be able to play through two chains, each comprising three missions.
Earn a set amount of base XP to progress through the chains.
For chain 1: you need to earn 250; 500; and 1,000 base XP, respectively. It's required that you earn 1,000 base XP in victorious battles for the last mission. For chain 2: you need to earn 1,100; 1,200; and 1,300 base XP in victorious battles, respectively.
All missions within a chain must be completed in successive order with Tier V–X ships in Operations, Random, Ranked, or Co-op Battles, once per day.
You can only start chain 2 once you've completed chain 1.
You'll receive your rewards in the Port after each mission goal is achieved.
Once all chains have been completed you'll earn an additional 200 Coal.
Besides this, each chain of daily missions completed between November 14 and December 10 will bring you an additional 6 Mediterranean Tokens.
DayTotal Daily Rewards
| | |
| --- | --- |
| November 14 | 2,000 XP; 2,000 Free XP; 4,000 Elite Commander XP; and 400 Coal |
| November 15 | 12x November Echo Setteseven signals; 12x Zulu Hotel signals; and 400 Coal |
| November 16 | 12x Repair Party II consumables and 400 Coal |
| November 17 | 12x Victor Lima signals and 400 Coal |
| November 18 | 300,000 credits and 400 Coal |
| November 19 | 2,000 XP; 2,000 Free XP; 4,000 Elite Commander XP; and 400 Coal |
| November 20 | 12x India X-Ray signals and 400 Coal |
| November 21 | 12x Engine Boost II consumables and 400 Coal |
| November 22 | 12x Equal Speed Charlie London signals and 400 Coal |
| November 23 | 36x Type 2 camouflage patterns and 400 Coal |
| November 24 | 2,000 XP; 2,000 Free XP; 4,000 Elite Commander XP; and 400 Coal |
| November 25 | 24x Zulu signals and 400 Coal |
| November 26 | 12x Surveillance Radar II consumables and 400 Coal |
| November 27 | 24x Papa Papa signals; 3x Stars 'n Stripes camouflage patterns; and 400 Coal |
| November 28 | 300,000 credits and 400 Coal |
| November 29 | 2,000 XP; 2,000 Free XP; 4,000 Elite Commander XP; and 400 Coal |
| November 30 | 12x Defensive AA Fire II consumables and 400 Coal |
| December 1 | 12x India Delta signals; 12x Juliet Yankee Bissotwo signals; and 400 Coal |
| December 2 | 12x Damage Control Party II consumables and 400 Coal |
| December 3 | 12x Type 5 camouflage patterns and 400 Coal |
| December 4 | 2,000 XP; 2,000 Free XP; 4,000 Elite Commander XP; and 400 Coal |
| December 5 | 12x India Yankee signals; 12x Mike Yankee Soxisix signals; and 400 Coal |
| December 6 | 12x Fighter II consumables and 400 Coal |
| December 7 | 12x Juliet Charlie signals; 12x India Bravo Terrathree signals; and 400 Coal |
| December 8 | 300,000 credits and 400 Coal |
| December 9 | 2,000 XP; 2,000 Free XP; 4,000 Elite Commander XP; and 400 Coal |
| December 10 | 12x Sierra Mike signals; 24x Hotel Yankee signals and 400 Coal |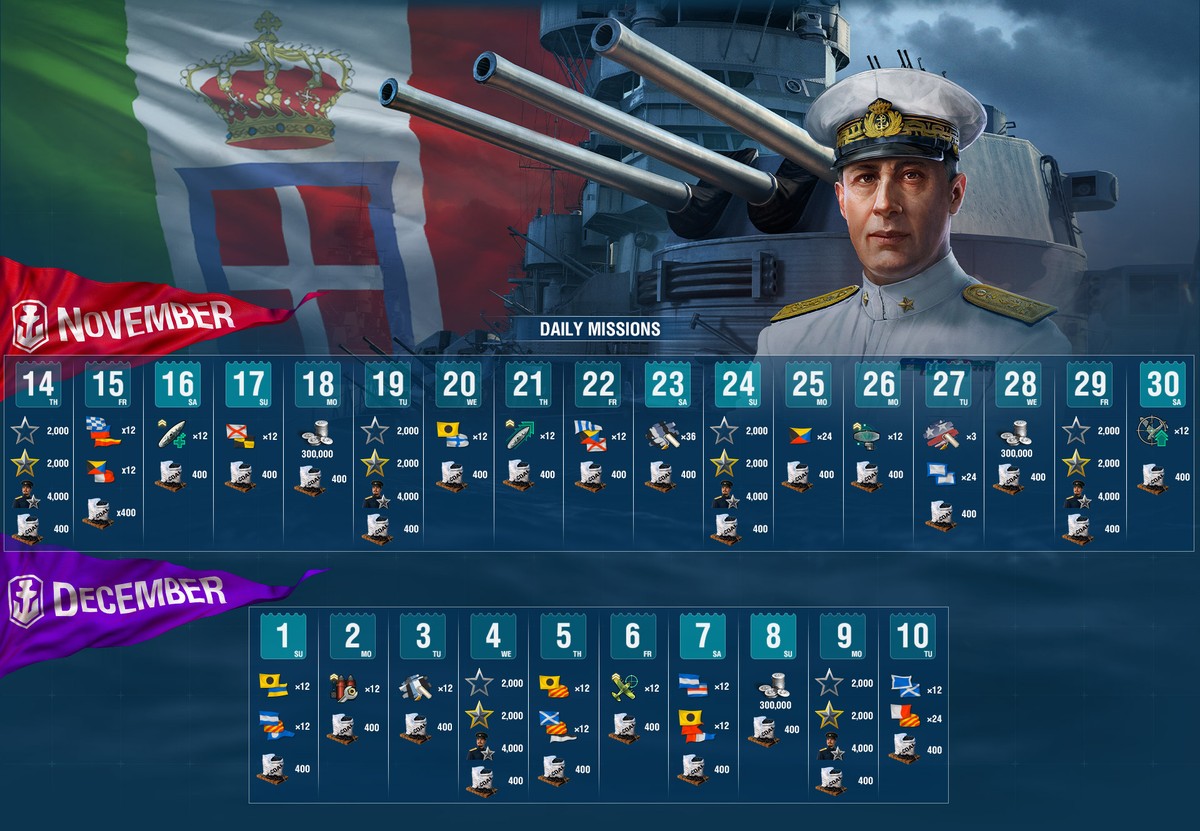 Source: https://worldofwarships.eu/en/news/sales-and-events/missions-0810-weekly-3/
---