Captains! Due to the installation of the Update, the server will be unavailable
From: Thu. 16 Jan. 06:00 CET (UTC+1)
Until: Thu. 16 Jan. 09:00 CET (UTC+1)
Update size: 2.8 GB
BRITISH CRUISERS: EARLY ACCESS

British heavy cruisers
V Hawkins,
VI Devonshire,
VII Surrey, and
VIII Albemarle are arriving in Early Access. To obtain them, exchange the new event resource—British Tokens—in the Armory for random bundles which can drop the new ships.
With the release of Update 0.9.1, Tier V–X British heavy cruisers will become available for all players to research in the Tech Tree.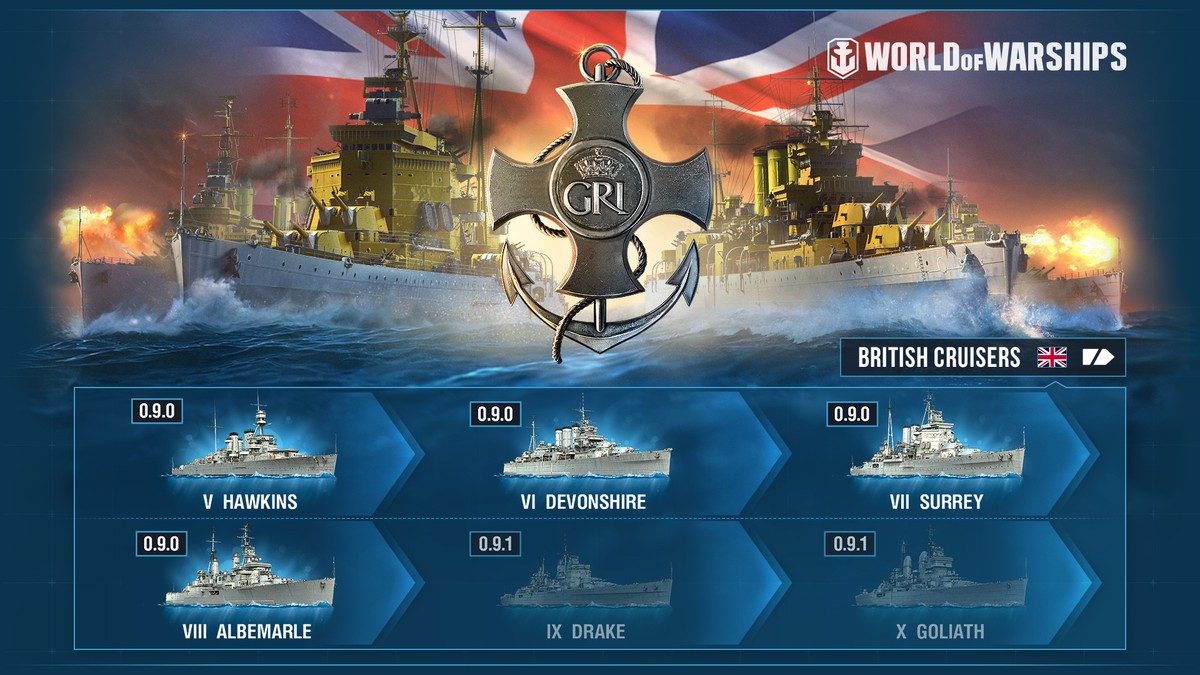 What are the distinctive features of British heavy cruisers?
Their guns can cause significant damage per salvo, but have a relatively short firing range and arching shell trajectory.
Unlike British light cruisers, the nation's heavy cruisers can use high-explosive shells.
Tube-by-tube torpedo launching capabilities.
Durable armor in the central part of their decks for Tier VI ships and higher give representatives of the new branch greater survivability in comparison to other cruisers.
Efficient Repair Party consumable: restores 50% of citadel damage, as opposed to the standard 10% for this ship type. Starting from Tier VIII, Repair Party restores 2% of the ship's maximum HP per second instead of the standard 0.5%.
All researchable British heavy cruisers can choose between Hydroacoustic Search and Defensive AA Fire.
Cruisers
IX Drake and
X Goliath have even more powerful artillery: main guns with a caliber of 234 mm and high-explosive shells that can penetrate armor up to 58 mm thick. Additionally, their Repair Party consumables are capable of restoring 60% of non-citadel damage.
Directives
The new game event tasks you with completing 36 missions spread across four Directives. The first Directive will become available with the release of Update 0.9.0, while those that follow will be unlocked each week. Completing missions will bring you signals, expendable camouflages, and credits; completing Directives will reward you with British Tokens.
British Tokens
British Tokens can be obtained from Daily Shipments or earned by completing Directives and Daily Missions. In a new Armory section, you can exchange the Tokens for random bundles which can drop British heavy cruisers
V Hawkins,
VI Devonshire,
VII Surrey, or
VIII Albemarle. Each ship comes with the Victorian White permanent camouflage.
Random Bundles
The contents of the currently available bundle will be visible to you.
After each exchange, the contents of the next random bundle will be visible to you.
Bundles that don't contain ships may appear more than once.
Apart from the ships, random bundles can drop days of Warships Premium Account, Coal, camouflages, and special signals.
Bundles that include significant hauls of desirable items are also available in exchange for doubloons in the Armory.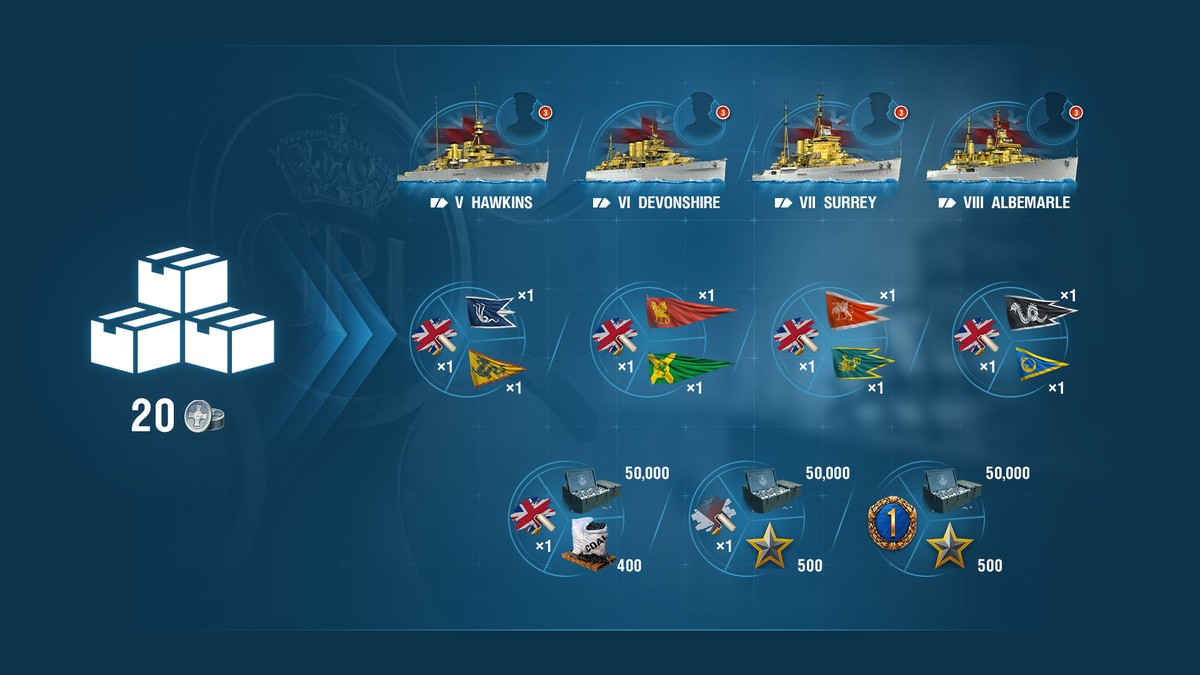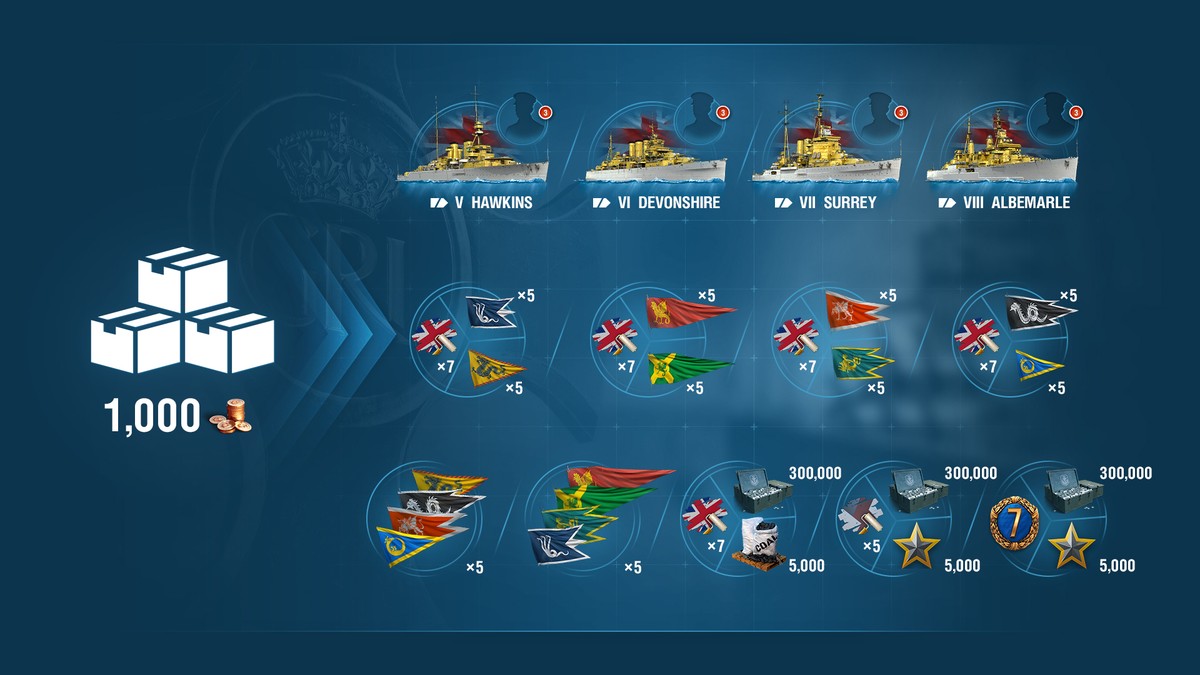 Royal BundleImperial Bundle
British Tokens can be obtained only in Update 0.9.0. With the release of Update 0.9.2, all British Tokens will be converted into credits at a rate of 1:4,500.
---
CLAN BATTLES: SEA OF FORTUNE

Start: Wed. 22 Jan. 12:30 CET (UTC+1) / your local time: Wed. 22 Jan. 06:30End: Mon. 09 Mar. 05:30 CET (UTC+1) / your local time: Mon. 09 Mar. 00:30
Format:Tier X ships in a 7 vs. 7 format.
Restrictions: a maximum of one battleship per team and no aircraft carriers allowed.
Rewards: up to 11,000 Steel and many additional rewards.
Maps: Hotspot, Sea of Fortune, Tears of the Desert, Crash Zone Alpha, Mountain Range, Land of Fire, and North.
Season Features: a cyclone is guaranteed to appear on each of the following maps: Mountain Range, Land of Fire, and North. Spotting range during a cyclone is 12 km instead of the usual 8 km for a Random Battle. The point in time at which a cyclone appears, as well as its duration, are strictly predetermined and don't change.
We'll provide you with more details about the Season in a dedicated article.
---
UNIQUE UPGRADES

As the opening move towards the changes that have been promised for unique upgrades, we've updated the way in which they are obtained. With the release of Update 0.9.3, unique upgrades will appear in the Research Bureau tab of the Armory. The challenges and combat missions for unique upgrades will also change.
The combat missions that reward players with unique upgrades for Tier X ships can still be received until the release of Update 0.9.1, by playing one battle with the specified Tier X ship.
Any of these combat missions already obtained prior to this point will expire on December 31, 2020.
We're going to update the existing upgrades and add some new ones in future.
---
EVENT CONTENT

Collaboration with Arpeggio of Blue Steel
Ships dedicated to the collaboration with Arpeggio of Blue Steel (
V ARP Kongō,
V ARP Kirishima,
V ARP Haruna,
V ARP Hiei,
VII ARP Myōkō,
VII ARP Nachi,
VII ARP Ashigara,
VII ARP Haguro, and
VIII ARP Takao), as well, as the
VII Southern Dragon and
VII Eastern Dragon custom ships, are becoming Premium ships. They will now earn more credits and their permanent camouflages will provide economic bonuses.
A new camouflage for
VIII ARP Takao has also been added.
Lunar New Year
On the occasion of Lunar New Year, we've added some flags, patches, permanent camouflages, and Commanders. Read a dedicated article to learn how to obtain them, as well as new ships
VIII Wukong,
IX Bajie, and
VIII Siliwangi.
Source: https://worldofwarships.eu/en/news/game-updates/update-090-british-cruisers/
---