Prizes will be distributed by:Sat. 15 Aug. 01:59 CEST (UTC+2)
Prizes
1-10th unordered:
| | |
| --- | --- |
| Thessius | EU |
| Kirito_Lv97 | EU |
| domen3 | EU |
| FalconKM | NA |
| TrainsversaL | NA |
| TheIncinerator | NA |
| Burninator_USAF | NA |
| SL_Rabbit | ASIA |
| inet_zlodey | CIS |
| Irrwitzer | CIS |
Random Prizes
The following 25 players will get the rare camouflage bundle:
| | | | | |
| --- | --- | --- | --- | --- |
| Leon_0529 [ASIA] | Hiro_Apropos [NA] | jdj467___ [ASIA] | Le_Protecteur [NA] | Demonage [CIS] |
| Salgunner [NA] | ScreenHD [EU] | brn4meplz [NA] | Beastrezenn [CIS] | Emanzasr12 [EU] |
| Mikasa Ackerman [EU] | brewakeg [NA] | revbear [NA] | zhongziguan [ASIA] | TrainsversaL [NA] |
| Shayba1 [EU] | narutokonoha123 [CIS] | mstitel5555_2019 [CIS] | Ellerhorst [NA] | Soyokaze [CIS] |
| Ivanoch13 [CIS] | Vajahl [EU] | Mudstool [EU] | Parasite coffee [EU] | Danzeal [NA] |
Thanks for participating!
---
Create a hidden surprise—win a prize!
Hidden in the nooks and crannies of ships, islands, and ports in World of Warships are small hidden surprises—Easter Eggs—carefully placed by the development team for eagle-eyed Commanders to find.
Now we're challenging you to create your very own Easter Egg! Sculpt, paint, or illustrate an original concept and send it through to us. We will shortlist our favorite ones and submit them to a public vote. The winning concept will be implemented in the game!
Contest details ● Rules ● Prizes
Submission deadline: Mon. 27 Jul. 01:59 CEST (UTC+2)
Voting begins: Tue. 04 Aug. 16:00 CEST (UTC+2)
Voting ends: Sat. 08 Aug. 01:59 CEST (UTC+2)
Winners announced: Tue. 11 Aug. 16:00 CEST (UTC+2)
---
Contest details
To participate in the contest you will have to provide the following:
An image of your Easter Egg suggestion, which can be created in any form you wish, e.g. a drawing, screenshot, 3D render, 3D model, paper/cardboard model, video, or interpretative dance.
The name of the map that you'd like the Easter Egg to be implemented on.
The location where you would like to see it implemented. Please mark this clearly on the respective minimap image. A list of our maps can be found here.
When you're happy with your work, submit the above information at the form below.
Tips
• Avoid submissions with text on them. Easter Eggs should shine for their subtlety!
• Easter Eggs don't have to be static—you can also propose animations!
• Concepts can come in any sizes, but keep in mind that Easter Eggs are meant to be hidden!
For inspiration, take a look at some existing Easter Eggs currently in the game:
---
Rules
All submissions should be created specifically for this contest and made during the contest period.
You can submit as many designs as you want, but only win once.
You may not use any existing artwork in your submission.
Your submission may not be based on any existing intellectual property not owned by Wargaming.net.
All submissions must conform to our game rules, terms of service, EULA and any other service usage agreements specified by Wargaming.net.
Disclaimer:
By accepting these terms and uploading your artwork, you grant Wargaming a worldwide, non-exclusive, royalty-free right and license (with the right to sublicense) to host, store, transfer, display, perform, reproduce, modify, and distribute your artwork, in whole or in part, in any media formats and through any media channels (now known or hereafter developed). Any such use of your artwork by Wargaming may be without any compensation paid to you.
You are solely responsible for your artwork and the consequences of submitting it. By submitting your artwork to this contest, you affirm, represent, and warrant that:
Any part of the artwork which comprises or incorporates any of our intellectual property rights remains our property and, as between us and you, we own the artwork which you create that is a derivative work of our intellectual property rights.
You are the creator of or otherwise own the rights to all parts of your artwork that you submit to this contest.
No item of the artwork that you upload infringes the intellectual property rights, privacy, or any other rights of anyone else.
No item of the artwork that you upload is illegal or in breach of our Terms of Service.
The artwork you upload complies with all applicable laws and legislation, and does not contain any material that may be considered offensive, defamatory, illegal, or which could cause any reputational loss or embarrassment to Wargaming or its affiliates.
---
Prizes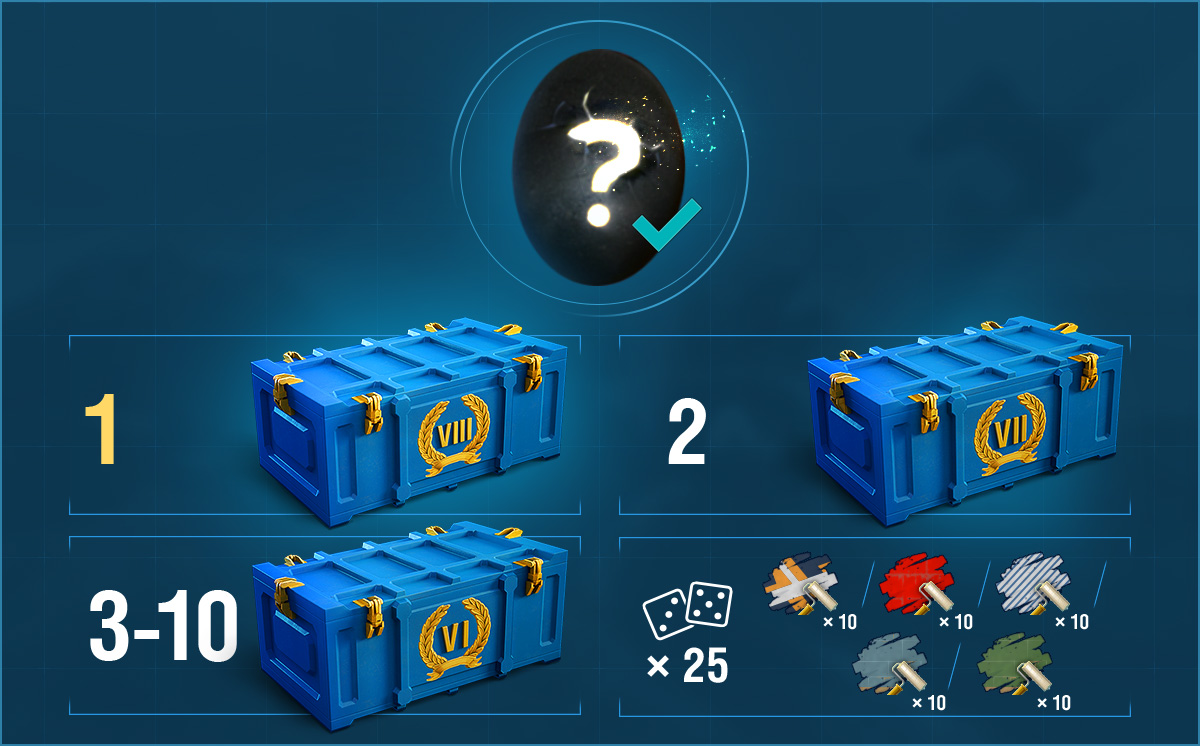 Compensation
If you open a container that drops a ship you already have in your Port, you'll receive another ship from the list above.
If you already have all the ships from the list above in your Port, you'll receive an amount of doubloons as compensation that corresponds to the cost of the ship that dropped from the container.
In addition to the compensation for the ship that you already have in your Port, you'll also receive a Port slot and Commander with 10 skill points. If you don't have a vacant place for this Commander in the Reserve, you'll receive one free of charge.
Please note: only one prize will be given away per person.
Action stations!
Source: https://worldofwarships.eu/en/news/community/easter-egg-contest/
---