This time, we have an action-packed season of a short duration, with Ranked Battles unfolding in Domination mode on Tier VIII ships. If you missed the previous seasons of Ranked Sprint and want to know more about it, our article is designed to answer your questions.
---
KEY RULES
What makes a Ranked Sprint different from regular seasons of Ranked Battles? An easier competition format and reduced duration. The Sprint lasts for 10 days only, and contains fewer ranks—half of them being irrevocable. It also takes fewer Stars to climb to the top ranks. Participation in the Ranked Sprint brings a lavish amount of signal flags; 500,000 credits—and 10,000 Coal for the Armory as a reward for attaining Rank 1.
Starts: Wed. 02 Oct. 11:00 CEST (UTC+2)
Ends: Mon. 14 Oct. 10:30 CEST (UTC+2)
Rules
All players with access to Ranked Battles in their Service Record are eligible for participation in Ranked Sprints. Beginners in World of Warships will have to play 130 battles in any of the available modes in order to gain access to them.
Only Tier VIII ships are allowed.
Battles are fought in a 7 vs. 7 format. Team lineups are mirrored in terms of ship types.
Only one aircraft carrier per team is allowed.
By winning battles, players earn the Stars needed to climb the ranking ladder. For the majority of ranks, a defeat means a lost Star.
The player with the most base XP in a team doesn't lose a Star upon their team's defeat.
The number of ranks is 10, which is less than in a regular season.
All players start battles at Rank 10.
Players receive a bonus star for each new rank attained.
Ranks 10, 9, 8, 5, and 3 are irrevocable. Players can't lose stars at Ranks 10 or 9.
This season, all ranks are combined into a single league.
Ranked Sprint achievements aren't inherited from previous Ranked Battle seasons, and aren't transferred to those that follow.
Stars earned in Ranked Sprints are not counted as the Stars required to be awarded Ranked Battle emblems.
Divisions
Divisions are allowed in Ranked Sprints.
The maximum number of players in a Division is two.
A Division can enter battle only if the opposing team also has a Division.
Each team can have a maximum of three Divisions.
Rank 1
Rank 1 is the highest achievable rank.
Players who attain Rank 1 can no longer participate in further battles of the current season.
---
MAPS
Battles will be fought in Domination mode on the following maps: Greece, Hotspot, Sea of Fortune, and Shards—Domination mode.
---
REWARDS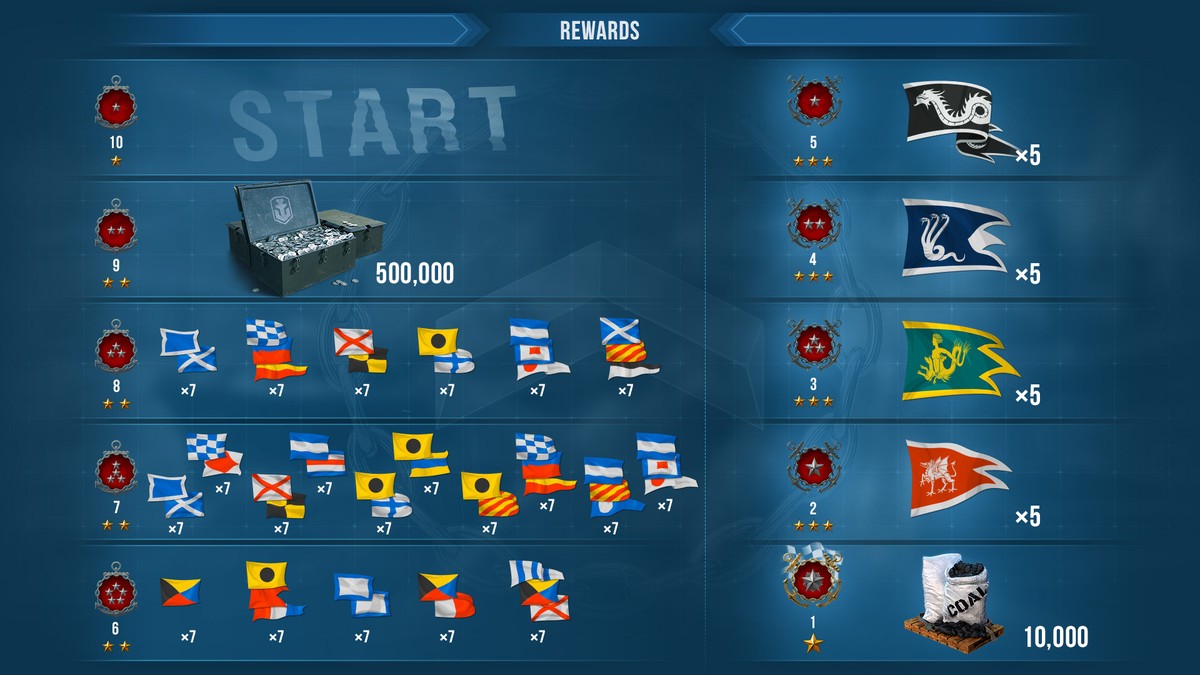 See you on the high seas, Captains!
Source: https://worldofwarships.eu/en/news/general-news/ranked-sprint-9/
---