Captains!
New to the game? Have you been recently recruited? Then this guide is for you!
Are you a Recruiter? Share this article with your Recruits and watch them develop!
---
A friend in need is a friend indeed! With our PayPal recruitment promotion soon coming to an end, these words might ring true for a Recruiter or two! To this end, we've compiled a brief list of ways in which Recruits can maximize their gains and progress to Tier VI in a torpedobeat!
Why should I care about the Tier VI Milestone?
For Recruiters – in order to earn real Euros via our PayPal recruitment drive, each of your Shipmates needs to reach Tier VI by the end of July!
---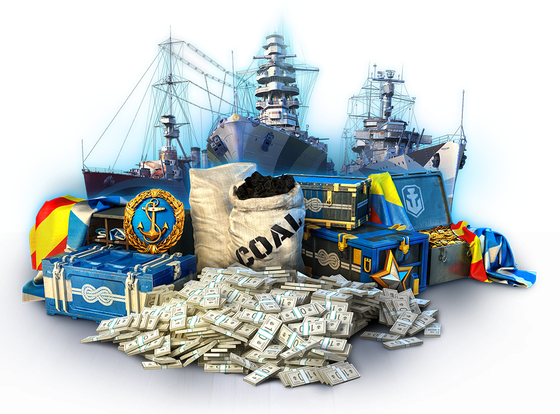 For Recruits (Shipmates) – play your first-Tier VI battle with a researchable (non-Premium) ship to get…
VI Warspite, a Port slot, and a Commander with 10 skill points
7 days ofWarships Premium Account
5,000,000 credits
25 signal flags of each type
5 "More Resources" containers
---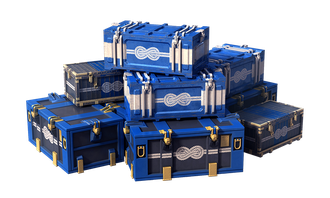 For both Recruit and Recruiter – play together in a Division and both of you'll rack up Recruitment Points in no time.
Exchange Recruitment Points for unique Recruiting Station containers that offer a chance of dropping Premium Ships, plus a load of other rewards!
---
1. Team up!
Let your Recruiter be your mentor! Hop into a Division with them and you might just learn a few lessons from seeing them in action. But that's not all—for every battle you play with your Recruiter, and even more so when you win, you'll receive Recruitment Points. This is a currency used in the game to purchase Recruiting Station containers that will drop more consumables, modifiers, and even ships!
Find out more about the Recruiting Station rewards here!
---
2. Find your comfort zone
When you're starting out in World of Warships, you may be inclined to search through the forums to find a solution to the ultimate question: which ship branch is the strongest? The truth is that every Captain is different, and their playstyles vary wildly, but if you're learning the game from the bare basics, both Japanese and American warships are well-rounded and offer a friendly place to start.
If you like stealth and ambushing, give destroyers a shot.
If you pride yourself on wielding the biggest guns on the battlefield, battleships may be your cup of tea.
If you favor versatility and support, piloting cruisers might just be your calling.
After a while, you'll get the hang of the gameplay and find the branch you feel most comfortable in.
Comfort ⇒ Results ⇒ Rewards
---
3. Battle mode awareness
There are several types of battles that become available as you level up your account. For a new player, the most important ones are

Co-op Battles and

Random Battles.
Co-op battles are excellent for when you're just starting out in World of Warships and learning the basics. However, once your account reaches Level 3, the more challenging PvP-focused Random Battles become available, and with them the possibility to greatly increase your rewards!
---
4. Start a Campaign
One often-overlooked feature in the game is the Campaign system. The way it works is simple.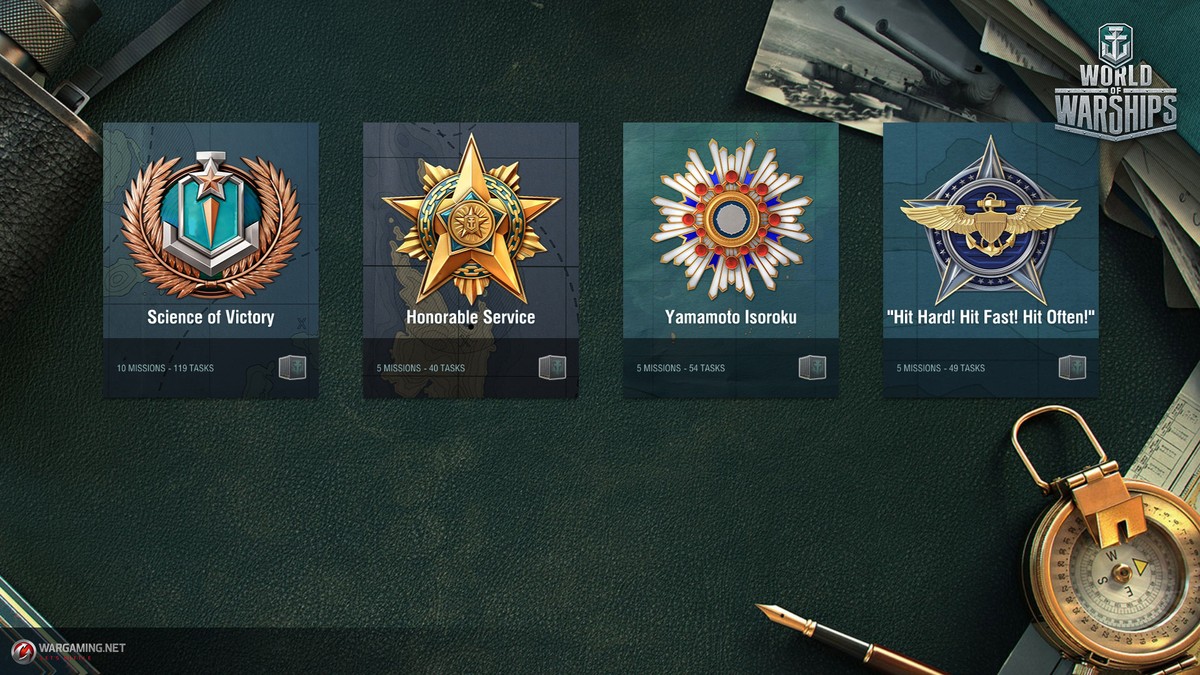 There are permanently available Campaigns which can be accessed through the appropriate button on the left side of your Port view. As a new player, the most accessible ones will be the following:
Science of Victory (easy)
Honorable Service (intermediate)
You must manually activate tasks inside the Campaign interface in order to gain Stars and advance in the selected Campaigns. Two tasks can be active simultaneously (three if you have Warships Premium Account). Each time a Campaign is completed, you'll receive a useful reward—such as signal flags and camouflages—which can enhance your performance in battle and add modifiers to your XP and credits earned.
Pro Tip: struggling to get enough Stars? Tasks can be repeated multiple times to gain points for the mission. However, the reward for a task is only given once.
---
5. Lock n' load!
Before heading into battle with a ship, always check the EXTERIOR tab on the top part of your Port interface. Here you'll find all your camouflages and signal flags listed and ready for mounting. Hover over each one to see the benefits they give when applied: economic bonuses like XP and credit boosts; combat bonuses like detectability and dispersion modifiers; or a mix of both.
You can equip up to 8 signal flags at a time, but only 1 camouflage can be painted on your ship, so choose your gear carefully before sailing into battle!
We strongly recommend you watch the following quick tutorials from our 'How it Works' video series:

---
6. Complete combat missions
Special combat missions are regularly available in the game, which can be completed either as standalones or as parts of chains. They are often time-limited and either related to historical anniversaries or special in-game events such as our April Fools or Halloween modes.
Occasionally the World of Warships website will also publish missions and competitions that become active on an opt-in basis, meaning that you must log in to the website with your Wargaming Account and click the respective button to participate.
The rewards for all these missions and competitions can go a long way towards helping you push up to the next tier!
Check out our monthly mission briefing publication, updated every Thursday!
---
7. Have a game plan
You only get one ship per battle, so make it count!
Your performance in the game and ability to influence the battle enough to secure victories for your team are ultimately the best indicators of your rate of advancement.
Play cautiously – at the start of a battle, being caught alone in the open will attract the entire enemy team's gunfire. Unless you're absolutely sure that you have the element of surprise on your side, don't charge into a Key Area by yourself, guns blazing. Once the battle has progressed enough and the odds have shifted in your favor, you can afford to make bolder moves and become a deciding factor.
Use all the tools at your disposal –the in-game interface comes complete with a wide range of instruments and indicators to help you maximize your combat effectiveness and situational awareness, such as the crosshair, the HP bars of enemies, and the Minimap.

Your Minimap isn't all about knowing where you are. Awareness of how your allies and enemies are moving on the map will help you make strategic decisions. See our dedicated guide on how to make the best use of this powerful tool!
---
8. Sinking ships isn't everything
Destroying enemy ships is a satisfying experience, and of course, prioritizing and eliminating targets is important and will increase your XP at the end of the battle. However, in the end, a victory is worth more than sending a single enemy under!
Go for the Key Areas; provide your teammates with fire support as they try to capture them; focus your fire on the targets that pose the greatest and most immediate danger, even if it means not getting the little red ribbon.
We strongly recommend that you watch the following quick tutorial from our 'How it Works' video series:
---
9. Warships Premium Time
The quickest, simplest, and most immediate boost to your progression can be attained by acquiring Warships Premium Account time. This works quite simply by giving you a flat bonus of 65% to your post-battleXP and a 50% bonus to yourcredit earnings. Additionally, you'll receive a unique Premium Port, as well as the ability to accept three Campaign tasks at a time instead of two.
| | | |
| --- | --- | --- |
| 65% more commander experience per battle | 65% more experience per battle | 50% more credits per battle |
So let's say you make earn2000 XP in the course of a week. With the Warships Premium Account bonus applied, you could earn3300 XP in the same period of time.
Days of Warships Premium Account can be acquired through certain combat missions, Daily Shipments, and Campaign tasks in the game.
Premium Account can also be purchased at the Premium Shop – either for yourself or as a gift for/from another player.
All recruited shipmates receive 7 days ofWarships Premium Account Time, together with
II Dianaafter their first battle played! Make the most of it if you haven't already!
---
10. Learn from the best!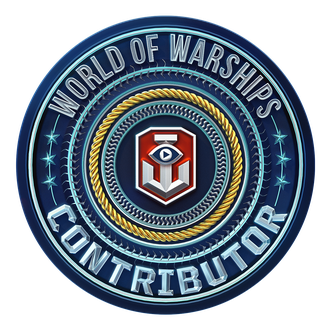 You don't have to play World of warships to learn: you can also watch it!
Tune in to our official Twitch channel every week for our regional community streams. First and foremost, you can take away some valuable gameplay lessons from our experienced stream team, but you can also participate in the occasional giveaway of in-game goodies!
Apart from our channel, there are dozens of talented World of Warships Community Contributors who broadcast their gameplay regularly. Watching them can help you get a better understanding of useful tactics and specific game mechanics.
Check out our trusted community contributors' channels and see how these battle-hardened Captains fare on the high seas of our game!
If you haven't already, try linking your Twitch account to your Wargaming.net Account. That way, when you watch specific World of Warships streamers, you have a chance to earn Twitch Drop rewards. Read more about Twitch Drops here.
Action Stations!
Source: https://worldofwarships.eu/en/news/game-guides/tiers-of-joy/
---