Update 0.9.7 welcomes the "German Navy" collection.
This provides an excellent opportunity to refresh your memory about the available in-game collections and why it's worthwhile to complete them.
THE "GERMAN NAVY" COLLECTION
Build the collection to learn about the history of the German Navy during the first half of the 20th century—ships and aircraft; personalities and emblems; awards and uniforms. Having completed the entire collection, you'll have learned about the German carrier-based aircraft projects; the story of Karl von Müller, the commanding officer of cruiser Emden; the specifics of the House Order of Hohenzollern; and much more! The collection comprises six sections with six elements in each:
Aircraft
Ship Emblems
Military Decorations of Germany
Personalities
Ships
The German Navy
The reward for completing the sections and entire collection is the ability to mount two flags and alternative camouflage patterns on German ships.
During Update 0.9.7, containers with elements of the collection can be obtained in the following ways:
Up to 10 containers—by completing Directives.
Up to two containers—from Daily Shipments.
Up to five containers—by completing special combat missions from the official World of Warships streams.
Up to six containers—by completing a special chain of combat missions playing Pommern. Two of these missions can also be completed playing Erich Loewenhardt.

You can continue gathering elements of the collection from daily containers by activating a subscription in the Collections tab of the Profile section of the port.
The exchange rate for duplicate elements is 4:1. After you complete the collection, any duplicates will automatically be exchanged for 15,000 credits each.
Join the hunt for new collection items, complete the existing collections, and claim valuable rewards!
---
WHY SHOULD I COMPLETE COLLECTIONS?
Collections are an excellent way to discover some interesting historical facts and obtain some desirable rewards along the way in the form of permanent camos, Commanders, and other valuable in-game items and abilities.
Our collections are designed to inform about the history of different naval forces, significant operations, and famous historical figures. Sometimes "unhistorical" collections appear in the game as well. They are sometimes dedicated to collaborations with other brands (for example, the collection inspired by the popular High School Fleet anime series), or focus on the World of Warships game itself.
Collections are made up of various elements: coats of arms of warships and combat units; items dedicated to renowned personalities; weapons, ships, and aircraft; insignias; and much more. Each image is accompanied by a detailed description. For convenience, elements are divided into thematic sections. When each collection section is completed, an additional reward is unlocked. When all the elements of a collection or section are in place, a window informing about the associated reward will be displayed. The collection will then be marked with an icon stating that it's "Complete," which means that you can return to it anytime to read the information about its elements.
---
HOW CAN I COMPLETE COLLECTIONS?
Where can I find my collections?
In the Profile section of the Port. You gain access to each collection after obtaining its first element.
Please note: the Collections tab won't be visible if you have no collection items.
Where can I get collection items?
In most cases, you'll find collection items in containers that share the same name as the collection. Clicking on a collection item that was dropped from a container will transfer you to the screen of the corresponding collection. But there are exceptions—for example, items from a collection dedicated to the Anniversary of World of Warships in 2017 were issued for special achievements earned in battle.
What is a subscription?
You can subscribe to some of the collections. This way, you can choose which large collections you want to actively collect. You can obtain the first elements of these collections in special containers. By activating a subscription, you'll be able to find the rest of the collectibles in the following containers: More Credits, More Signals and Camouflages, More Resources, and Try Your Luck. You can only subscribe to one collection at a time under the Profile tab.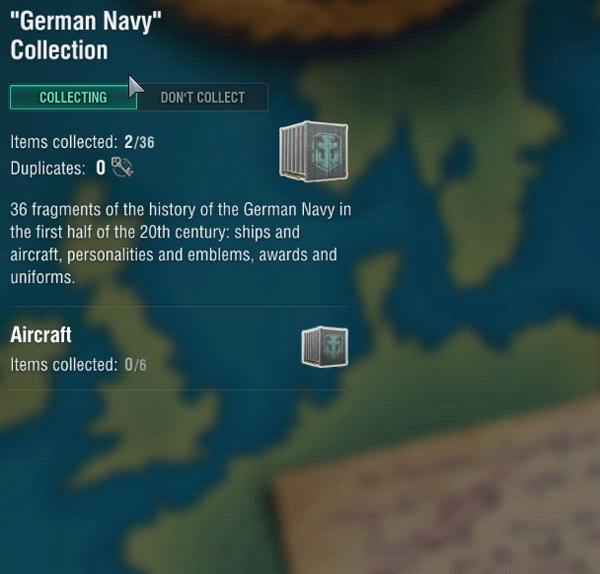 What is a duplicate?
When completing a collection, it's possible to obtain an item you already have—this is called a "duplicate." When you have a certain number of duplicates from the same collection, you can exchange them for any item you might still be missing. To do that, you need to select a vacant slot in an album and confirm that you want to exchange your duplicates for this missing item in the window that appears. The cost of such an exchange depends on the collection, but it's usually 2–5 duplicates per item. Once a collection is complete, any remaining duplicates of that collection are automatically exchanged for credits. The exact exchange rate depends on the specific collection. Thus, you can decide whether you want to obtain the main reward for collecting all the elements as soon as possible, or prefer to get more duplicates to earn more credits.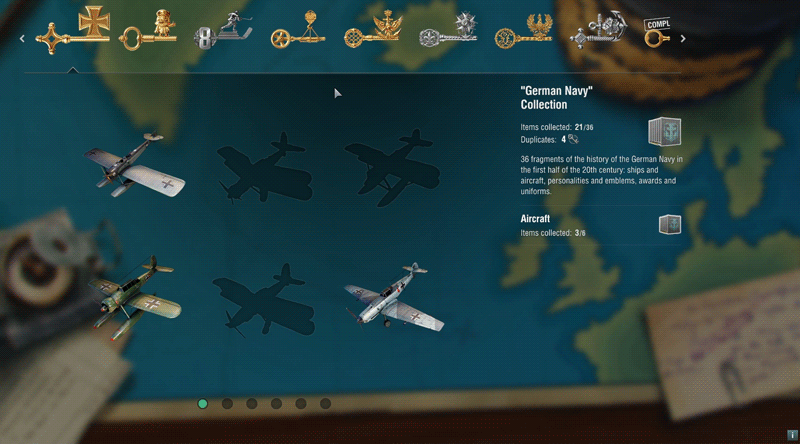 ---
WHAT COLLECTIONS AND REWARDS ARE AVAILABLE?
There are currently 15 collections available in the game. The items of these can be obtained from containers that share the same name as the collections in the Armory in exchange for Coal. Exceptions: Yamamoto Isoroku, "Bad Advice: Behind the Scenes," and "King of the Sea."
Source: https://worldofwarships.eu/en/news/general-news/collections-completion-and-rewards-097/
---