The Clan Brawl is a new battle format for Clans. How does it differ from Clan Battles? What rewards await those who participate? You'll find the answers to these and other questions below!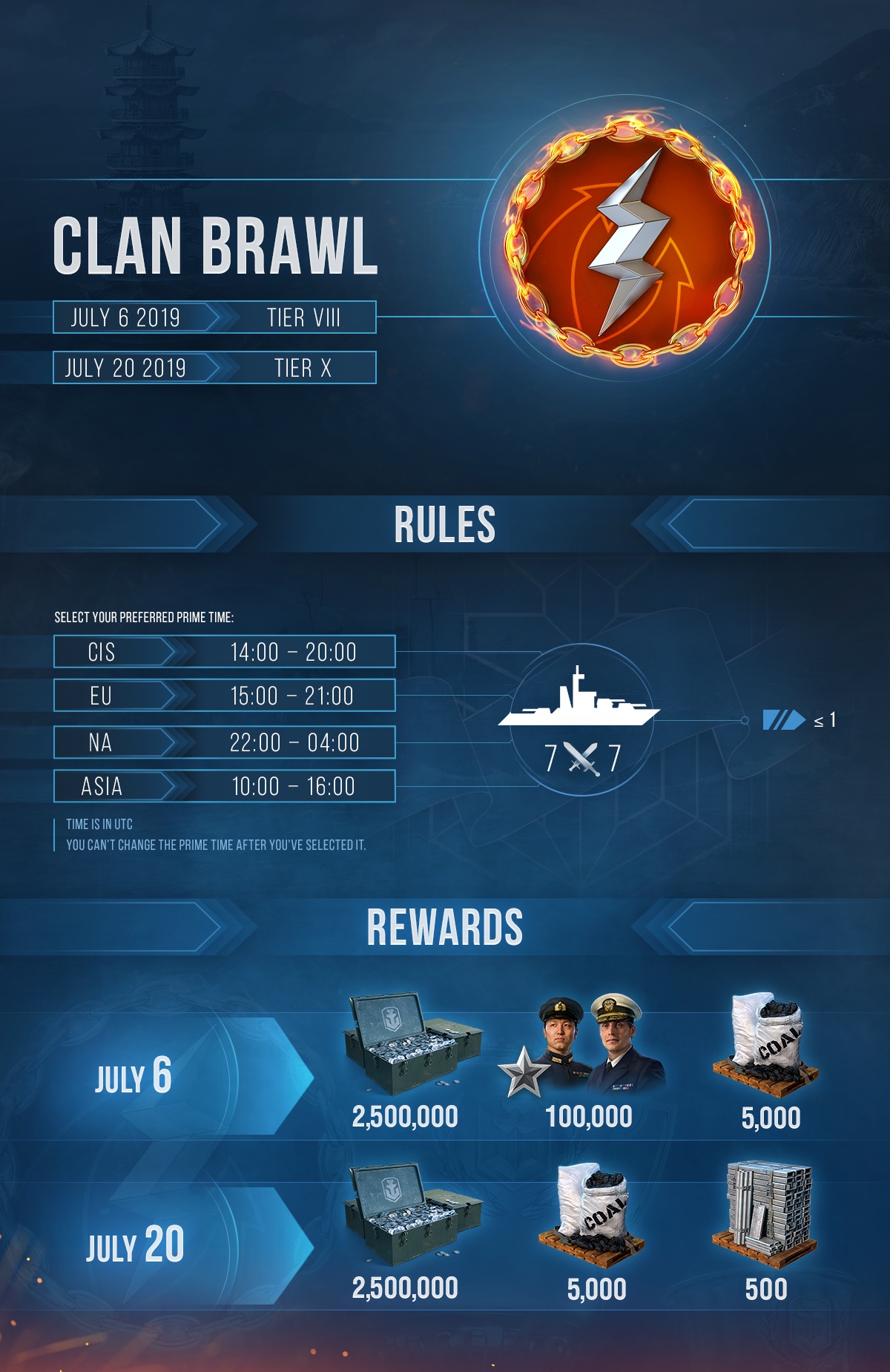 ---
Basic Rules
Dear players, please note that there was previously a mistake in this article. In fact, aircraft carriers won't be able to participate in the Clan Brawl mode. Therefore, there is only one restriction: a single team can't include more than one battleship.
Thank you for your attention and please take our sincerest apologies for any inconvenience.
In contrast to Clan Battles, Clan Brawls take place throughout a single day, and only victories are counted.
Two Clan Brawls are scheduled for Update 0.8.5:
July 6—for Tier VIII ships
July 20—for Tier X ships
Each Clan will be able to select its preferred prime time to play—it can choose to fight either during its own server's prime time, or matches can be made on different servers if their times are more convenient:
CIS 14:00 – 20:00 UTC
EU 15:00 – 21:00 UTC
NA 22:00 – 04:00 UTC
ASIA 10:00 – 16:00 UTC
Please note: you won't be able to change the prime time once it has been selected!
Any Clan can participate in a Clan Brawl.
Battles are held in a 7 vs. 7 format.
A single team can't include more than one battleship.
Any number of teams from a single Clan can fight in a Brawl if the composition of the teams meets the listed conditions.
Only victories are counted for the Rating.
Since only victories are counted, and defeats aren't taken into account, there's no option to select Alpha or Bravo Ratings in the Clan Brawl.
The matchmaker matches teams with similar numbers of victories.
Victories earned in the Clan Brawl aren't counted towards the requirements to receive Clan Battle emblems.
If two teams share the same number of victories, the higher position in the Rating will be given to the Clan that gained their last victory first.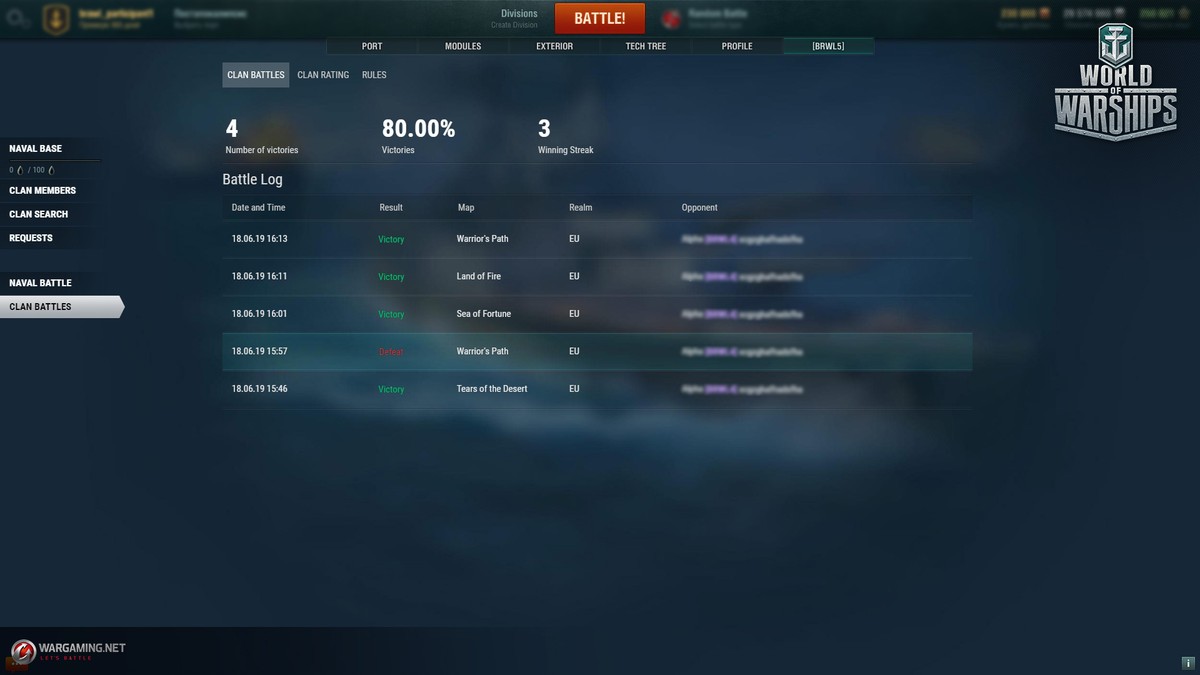 The Clan Brawl economy is completely in line with that of Clan Battles:
Victory: 2,500 base XP and 300,000 credits (without modifiers applied).
Defeat: 250 base XP and 150,000 credits (without modifiers applied).
Draw: both teams earn an amount of XP and credits equal to that received for a lost battle.
---
Rewards
In the Clan Brawl to be held on July 6, players will be able to receive up to 2,500,000 credits; 100,000 Commander XP; and 5,000 Coal!
In the Clan Brawl to be held on July 20, players will be able to receive up to 2,500,000 credits; 5,000 Coal; and 500 Steel!
Complete all chains of combat missions to earn useful resources!
For achieving high positions in the final Rating, Clans will receive resources for their Treasury.
| Position | Coal |
| --- | --- |
| 1 | 25,000 |
| 2 | 22,500 |
| 3 | 20,000 |
| 4 | 17,500 |
| 5 – 50* | 16,250 – 5,000 |
* Each following step brings 250 Coal less.
---
Achievements
Clans which rank in the Top 1,000; Top 100; Top 10; or are named the Champion Clan in the selected prime time will be awarded special achievements. In such cases, all Clan members who play at least one battle during the Clan Brawl will be awarded these achievements.
---
Maps
During the Clan Brawl, battles will be held in the Domination battle mode on the following seven maps: Mountain Range, Warrior's Path, Sea of Fortune, Tears of the Desert, North, Greece, and Land of Fire.
We wish you the best of luck in the Clan Brawls! See you in battle!
Source: https://worldofwarships.eu/en/news/general-news/clan-brawl/
---