Rewards
Cruiser VI London: the main reward for completing four Directives of the event.
Royal Tokens: a themed temporary resource which can be obtained by completing Directives and Daily Missions, or received from Daily Shipments. You can earn more of them by gaining victories on VIII Albemarle or VI London—up to 10 Tokens per day.
Commander Andrew Cunningham, whom you can find in the Armory in exchange for 1,000 Royal Tokens.
If you complete four missions from each of the first two Directives, as well as collect the rewards from Daily Shipments, you can obtain up to 300 Royal Tokens. These can be exchanged for one of the following rewards in the Armory:

If you complete all four Directives and collect the rewards from Daily Shipments, you'll receive cruiser
VI London, a permanent camouflage for her, and up to 600 Royal Tokens. These can be exchanged for one of the following rewards in the Armory:

If you log in to the game regularly and actively progress through the Daily Missions, complete all four Directives, collect all the available rewards from Daily Shipments, and complete the Daily Challenges on
VIII Albemarle or
VI London, you can obtain up to 1,380 Royal Tokens. These can be exchanged for a unique Commander— Andrew Cunningham—or one of the following rewards in the Armory:

---
Andrew Cunningham
Talents:
Lightning Fast: the speed of your ship and squadrons increases by 5% after scoring two "Caused flooding" ribbons.
Consumables Expert: adds one charge for each of your ship's consumables after you destroy two enemy ships.
"Sink, Burn, Destroy!": the reload time of your ship's main battery guns and torpedo launchers, as well as aircraft restoration time, are reduced by 10% after earning the Witherer achievement.
These talents can be activated only once per battle, and aren't available in Clan or Training Battles.
Enhanced skills:
Jack of All Trades: reduces the reload time of all ship consumables by 10% (instead of 5%).
Aircraft Armor: reduces the continuous damage dealt by AA mounts by 11.5% (instead of 10%).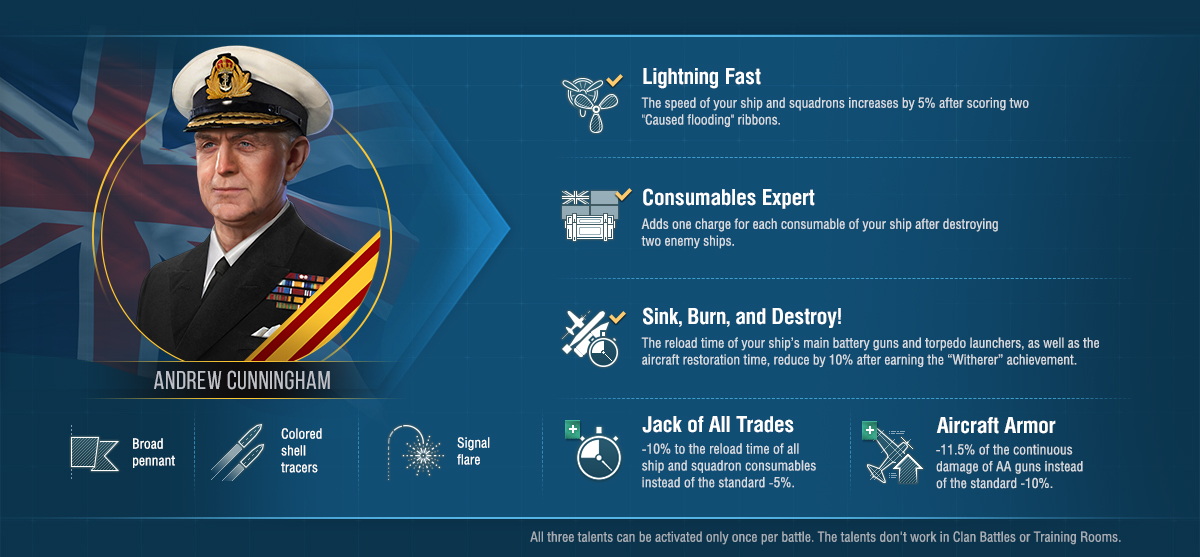 Commander Andrew Cunningham is available in the Armory in exchange for 1,000 Royal Tokens. He comes with 10 skill points and a specialization for
I Black Swan.
In Update 0.9.7, we're planning to make Andrew Cunningham available in exchange for Coal in the Armory. Thus, you'll still be able to get this Commander in future if you didn't manage to do so in Update 0.9.1. The exact amount of Coal required will be announced later.
---
Directives
The new game event tasks you with completing 36 missions spread across four Directives. The first Directive will become available with the release of Update 0.9.1, and the following Directives will open each subsequent week. Completing the missions will reward you with signals, expendable camouflages, Free XP, credits, and other desirable items. The main reward is cruiser
VI London, which comes with the Victorian White permanent camouflage and a Commander with 3 skill points. You can obtain her by completing four out of nine missions of the last Directive.

If you already have
VI London in your Port by the time you complete the final Directive, you'll get a Commander, Port slot, and compensation for the ship in the form of doubloons.
You can expect the missions of the Directives to be more diverse than they have been in the past. Experienced players who have collected large numbers of ships in their Ports will have the opportunity to select the ideal ships for particular missions, and thus complete the Directives faster.
Directives can be completed until: Tue. 10 Mar. 06:00 CET (UTC+1)
Detailed information on the Directives and Hall of Fame rewards can be found in the game client.
---
Royal Tokens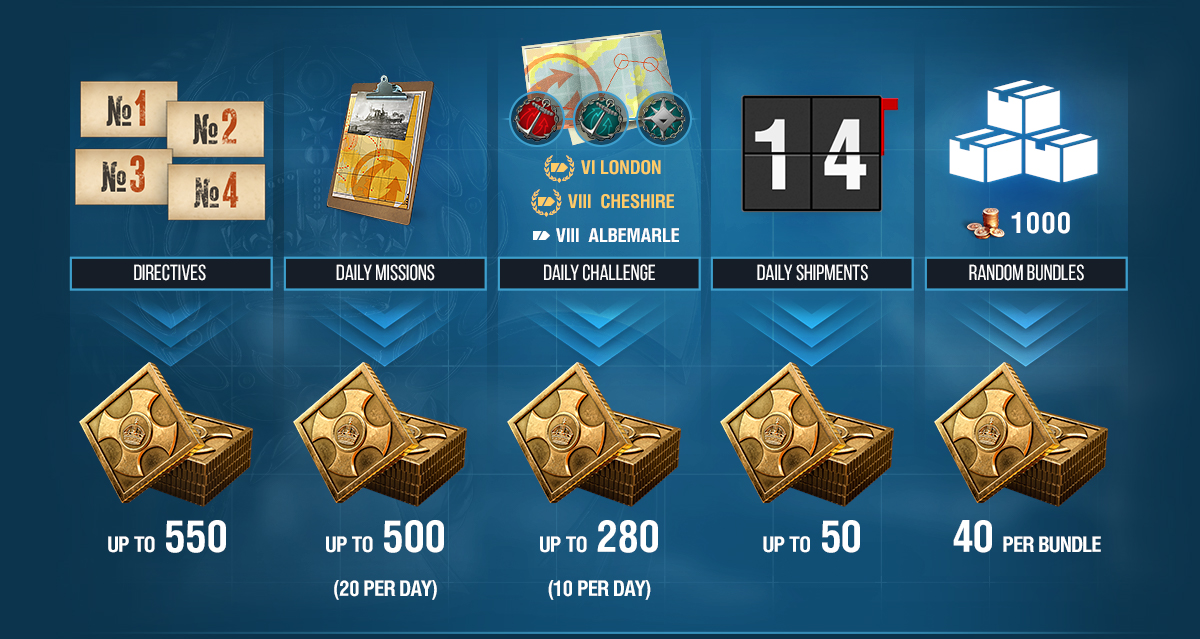 You can obtain Royal Tokens in the following ways:
Completing all four Directives of the "British Cruisers: Part 2" event will grant you up to 550 Tokens.
Completing the Daily Missions from February 13 through March 8 will bring you 20 Tokens per day. You can obtain up to 500 Tokens in total.
Daily Shipments will deliver you up to 50 Tokens.
Completing Daily Challenges on VI London or VIII Albemarle during Update 0.9.1 will bring you 10 Tokens per day (up to a total of 280 Tokens). You'll also be able to complete the Challenges on VIII Cheshire after she becomes available at the end of February. In order to obtain the available rewards, gain victories in Random, Co-op, or Scenario Battles.
In total, you can earn up to 1,380 Tokens.
Royal Tokens can also be dropped from random bundles that are available in exchange for doubloons in the Armory.
You can exchange these Tokens for the following rewards:

With the release of Update 0.9.2, Royal Tokens will be obtainable only from random bundles that will be available in exchange for doubloons. After Update 0.9.3 goes live, all Royal Tokens will be converted into credits at a rate of 1:9,000.
---
Random Bundles
The "British Navy 2" section of the Armory has been stocked with random bundles. Each of them can be obtained in exchange for 1,000 doubloons.
All the rewards are visible in advance: the bundles' contents and their amounts will be displayed to you when viewing the currently available bundle.
After each exchange, the contents of the next random bundle will be visible to you.
Having collected all the bundles, you're guaranteed to have obtained all the available rewards.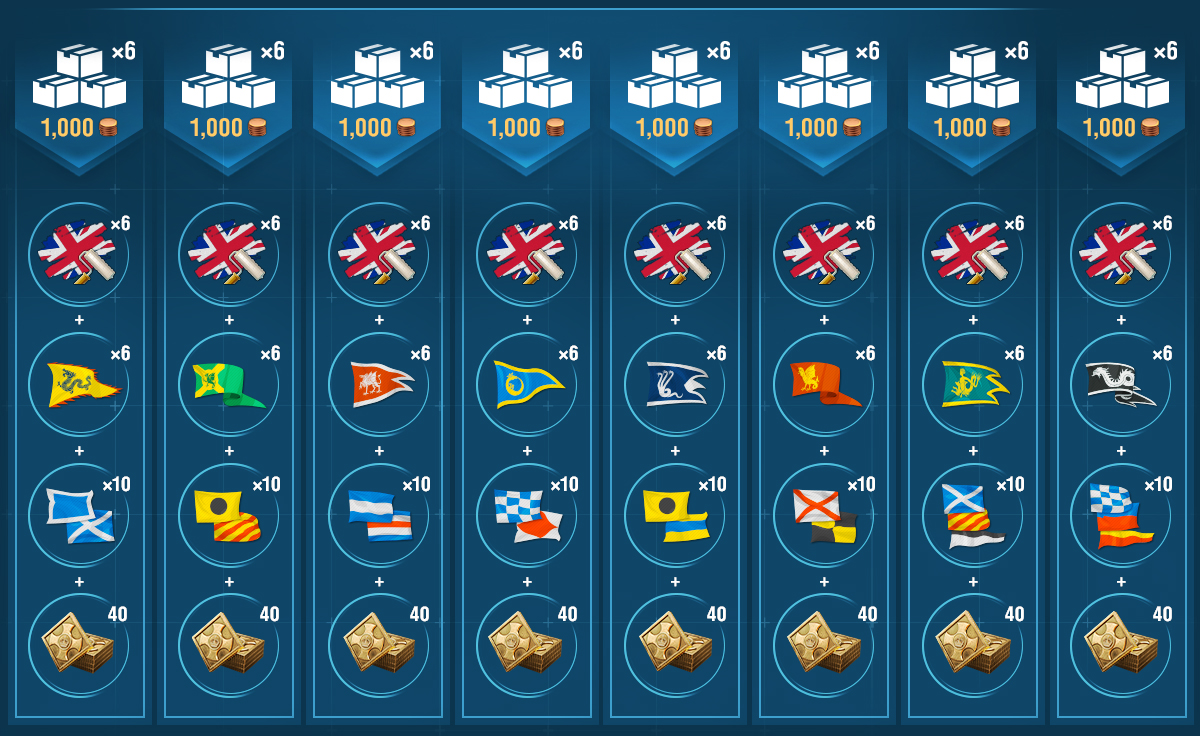 ---
Daily Shipments

During Update 0.9.1, log in to the game between February 13 and 27 to start getting valuable rewards via the Daily Shipments section.
You can get a total of 10 rewards, while the shipments are available for 14 days. Thus, you can skip 4 days out of 2 weeks and still claim all the valuable rewards.
Source: https://worldofwarships.eu/en/news/game-updates/british-cruisers-london/
---