0.10.0 Combat Missions: Anshan, Doubloons, and Other Rewards!
Captains!
New combat missions are available in Update 0.10.0! Completing them will earn you many rewards, including Pan-Asian Premium destroyer VI Anshan and Lunar New Year containers.
New Commander Skill System
Starts: Thu. 21 Jan. 06:00 CET (UTC+1)
Ends: Thu. 18 Feb. 06:00 CET (UTC+1)
Due to the changes to the Commander skill system, we're offering discounts on Commander retraining and skill resetting.
Discounts and Bonuses
You can reset Commander skills free of charge.
You can demount upgrades free of charge.
The cost of Commander retraining in Doubloons has been reduced by 90%—from 500 to 50 Doubloons.
In addition, to help you experiment with retraining Commanders for different ships, players with Access Level 8 and above will receive 500 Doubloons when they first log in to the game during Update 0.10.0!
Combat Missions
Combat missions are available for French; Japanese; U.K.; U.S., Soviet; and German ships. Earn 1,100 base XP playing Tier VII–X ships of each of these nations to receive 100 Doubloons. In total, you can complete six combat missions and earn up to 600 Doubloons!
Combat missions can be completed in Ranked, Clan, Random, and Co-op Battles, as well as in Operations.
---
Battle Performance Bonuses
Until the end of Update 0.10.0, ships of Tier V and above feature Snowflakes with holiday bonuses. Winning the first victory or earning 300 base XP playing a ship will bring you the corresponding reward:
Tiers V–VII: 400—750 Coal
Tiers VIII–IX: 75 Steel
Tier X: Santa's Gift container
---
Combat Mission Groups
The new event incorporates four combat mission groups. Completing the first two groups will reward you with up to five Lunar New Year containers, as well as camouflages and signals. The third combat mission group will become available next week. As the main reward for completing the final group of combat missions, you'll receive VI Anshan with a Port slot and 6-skill-point Commander.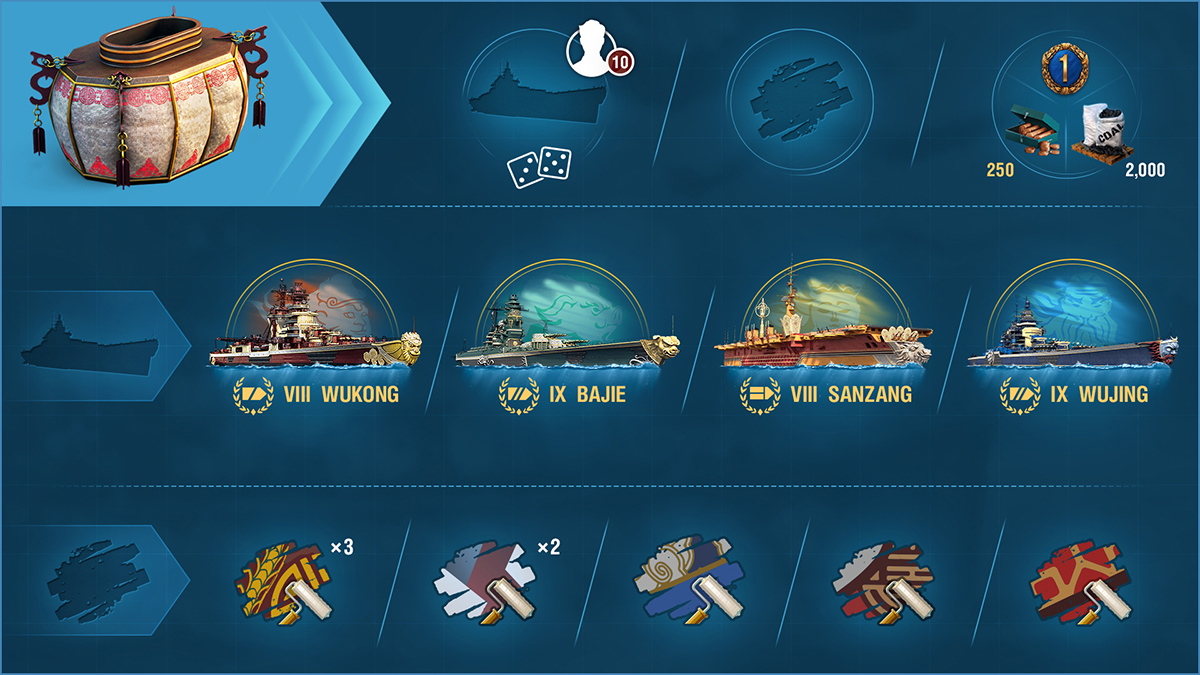 ---
Dockyard
In Update 0.10.0, players can continue constructing Japanese Tier IX battleship IX Hizen at the Dockyard. By completing the Dockyard combat missions, you can complete 22 out of the 26 shipbuilding phases. You can earn rewards for completing each phase, with II Tachibana and V Yahagi being the rewards for completing Phases 5 and 15, respectively. Each ship comes with the Winter permanent camouflage and a Commander with 6 skill points for the ship.
To obtain IX Hizen in the War Paint permanent camouflage, a Port slot, 10-skill-point Commander, and commemorative flag, you'll need to complete the remaining four shipbuilding phases by spending Doubloons.
If you complete the construction of IX Hizen by spending Doubloons, make sure to keep progressing through the Dockyard combat missions anyway—completing each phase will bring you 400 Research Points and 200 Steel. In total, you can earn up to 8,800 Research Points and 4,400 Steel.
---
Ranked Battles
Starts: Tue. 26 Jan. 09:00 CET (UTC+1) / your local time: Tue. 26 Jan. 03:00Ends: Tue. 02 Feb. 02:00 CET (UTC+1) / your local time: Mon. 01 Feb. 20:00
To complete a special combat mission, earn 500 base XP in a single Ranked Battle. As the reward, you'll get two special signals: Leviathan and Scylla.
---
Republic Day in India
Starts: Mon. 25 Jan. 06:00 CET (UTC+1)
Ends: Mon. 01 Feb. 06:00 CET (UTC+1)
One of India's three national holidays is celebrated on January 26 to honor the date on which the Declaration of Independence of India was promulgated in 1930 and the Constitution of India came into effect in 1950.
To complete the chain of combat missions, you'll need to earn "Destroyed" and "Set on fire" ribbons, as well as win battles. As the reward, you can receive up to five Indian Tricolor camouflages.
You can complete this chain of combat missions in Ranked, Random, and Co-op Battles, as well as in Operations, playing Tier V–X ships.
---
Daily Missions
One chain will become available to you each day. Progressing through each chain will reward you with XP, signals, credits, Coal, and even Steel!
Rewards

Complete daily missions in February, and the following rewards will be yours:

Research Bureau
Players with access to the Research Bureau will be able to earn even more Research Points by completing daily missions—400 Research Points for completing 25, 50, and 75 combat missions.

Conditions for completing the chains:
Each day, you can complete a chain of six missions.
You must earn a certain amount of base XP in order to complete a mission of the chain.
You must earn 250 base XP in a single battle in order to accomplish the first mission.
The second mission requires you to earn 500 base XP across several battles.
For missions 3, 4, 5, and 6: you need to earn 1,000; 1,100; 1,200; and 1,300 base XP in victorious battles, respectively.
All missions within a chain must be completed in successive order, playing Tier V–X ships in Random, Co-op, or Ranked Battles, or in Operations.
You'll receive any due rewards in your Port once you've completed the conditions of the missions.
After completing the entire chain, you'll obtain the final reward.
Source: https://worldofwarships.eu/en/news/sales-and-events/missions-0100/
---