Commanders!
It was on September 15, 1916, during the Battle of the Somme, that the first tank saw its operational use. The concept of heavily armored vehicles that could withstand bullets and support the infantry in their advancements was the British answer to the stalemate of trench warfare on the Western Front during World War I. Tanks were constructed to operate on all types of terrain, capable of breaking through barbed wire and able to overcome trenches. The dawn of mechanized warfare had arrived, although the idea of armored fighting vehicles dated back hundreds of years. Leonardo da Vinci is often credited with the invention of the tank, a concept that was later picked up by H. G. Wells in his famous short story "The Land Ironclads" in 1903.
While caterpillar tractors were already used to move equipment around battlefields at the beginning of World War I, it wasn't until the end of 1915, with the completion of "Little Willie" by the Landship Committee, that the first tank saw the light of day. The term "tank" was initially used as a code name to hide the efforts in constructing a powerful armored vehicle, but ultimately turned into the official nomenclature of the new war machines.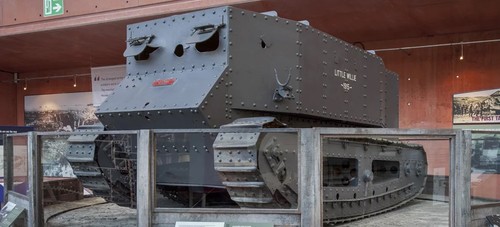 Little Willie on display at The Tank Museum in Bovington
From this moment forward, tanks couldn't be stopped and slowly changed the face of war. More and more countries started their own developments and created new concepts. Turrets were introduced, major improvements were made, and by World War II, the trench warfare of the past had been replaced by tank vs. tank battles and advancements in heavy war machinery.
See for yourself how far tank development has come, and take some of the best armored vehicles into battle. Complete as many Tank Reward missions as you can from September 4 at 07:00 CEST to September 28 at 07:00 CEST (UTC+2), to collect Tank Reward points and unlock rewards from 5 reward tiers. Each new tier contains even better rewards, such as Personal Reserves and plenty of in-game goods. Reach Tier V to choose 7 Days of WoT Premium Account, the V T14 , the VI Strv m/42-57 Alt A.2 , or the V Type 3 Chi-Nu Kai !
You have until October 1 to claim any rewards from this month's event. Any vehicles owned will be compensated in credits.
Visit our Tank Rewards page to claim your rewards!
What is a Tank?
Would you like to learn more about the fascinating history of armored vehicles? Dive deeper into tank development over the years with our short documentary "Tank Building: What is a Tank?"!
Tank Rewards Missions
Available from September 4 at 07:00 CEST through September 28 at 07:00 CEST (UTC+2)
Da Vinci Was Here
The Land Ironclads
Little Willie: The First of its Kind
Landships Ahoy!
Swinton & Jones: Let's Call It "Tank"
3's a Crowd, 17's a Tank Crew
A7V vs Mark IV: Tank vs Tank Battle Begins
The Renault FT Will Turn Heads
TOG II: The Old Gang at It Again
Rewards
100 Tank Reward points
4 Small Repair Kits
4 Small First Aid Kits
4 Manual Fire Extinguishers
Objective
Restrictions
Only in Random Battles, Grand Battles, Skirmishes and Advances
Only in Tier II–X vehicles
Once per day
Prizes
Collect enough points to enter the Hall of the Slain for a feast of rewards including amazing Premium vehicles!
Reward Tier I (700 points)
Reward Tier II (1,400 points)
Reward Tier III (2,100 points)
Reward Tier IV (2,800 points)
Reward Tier V (3,200 points)
3 "Flag of the U.S.S.R." decals

3 "Flag of Germany" decals

3 "Flag of the U.S.A." decals

6 "Emblem 1" emblems


OR
7 Personal Reserves: +100% XP for 2 hours

7 Personal Reserves: +300% Crew XP for 2 hours


OR
10 Small Repair Kits

10 Small First Aid Kits

10 Manual Fire Extinguishers


Roll Out!

Source: https://worldoftanks.eu/en/news/general-news/tank-rewards-september-2020/
---