Let's just kick back and cast rods - Waterfall Fishing in Runescape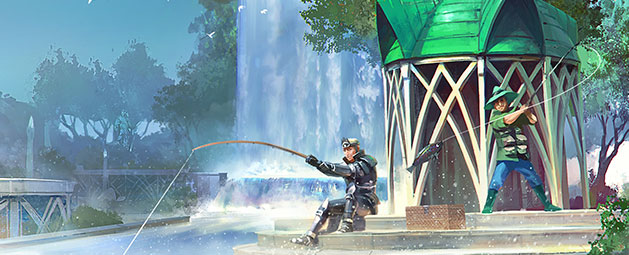 Do you know what I like the most in MMOs? Freedom of choice. Freedom of doing the stuff I enjoy at the moment, not the obligatory tasks that other games force me as a player to complete. If I mind regular questing - I simply go to community areas and socialize with others, or improve my avatar's skills. Such an alternative provides RuneScape - with its Watterfall Fishing event. Let's get down to it.
How to Start
The waterfall is in the north-east of Prifddinas, between the outer reaches of the Meilyr and Crwys Districts.
Requirements
You must be a RuneScape member - 93 Fishing, 90 Agility, 90 Ranged & 90 Strength
95 and 97 Fishing required for mid and high-level spots
Mithril grapple
This content is entirely available to Ironman players.
Devs have commented on this event:
...it's the ideal high-level, low-intensity Fishing training method after a busy day's slaying, PKing or real-lifing. It'll be a top choice for Double XP Weekend, too – starting 25th September at 12:00 UTC (game time).
Gamekitters, perfect chance to kill two birds with one stone - to grind some fishing skill and laid back with friends at waterfall. The only problem is to have a high level avatar...
[pic & info source: runescape.com]
---