Once upon a time, the green forests of Elenia were inhabited by gentle beautiful Wood Maidens - Dryads. There was a belief that wakening of these magical creatures marked the coming of Spring itself.With the first signs of Spring, people came to Illayr, bringing the remains of their winter provisions as Offerings and adorned trees with ribbons and strings of beads. In this way, they asked the beautiful Forest Guardians to grant them plenty of game and wild berries. If the Dryads liked the Offering they left caskets with spring flowers and berries as a sign of their pleasure. Some luckier people even found amazing gifts in these caskets - Dryad clothing for the womenfolk and Druid Steps for men and women.Nobody knows quite why, but with the passing of the years, Dryads made fewer and fewer appearance until they disappeared entirely remaining only one of most fascinating Aura's legends. Many Elenian families still keep the legendary caskets as heirlooms to remind us of those wonderful Dryads and their gifts.Thanks to efforts of Royal Time Clerks and the Andynopolis Arch returning from the Elenia of the Past, they have obtained a stock of Dryad caskets from which you will be able to obtain most authentic gifts of the Dryad – a sweet memento of Spring.
Spring Rates X3
Surely you have already noticed Rates X3 enabled in the game!
Starting from February 28 and up to March 14 (from maintenance to maintenance), Premium Account holders will get the tripled bonus to the experience.
Promo code gift
RQKK-NZY4N-ERDRX-IAXN6-JS4
Of course! We want everyone could enjoy the benefits of Rates X3, so we present you with Royal Blessing X7 and some other useful items. Not boxes this time though, just to prevent accidents happen.
Frosty Winter armies have retreated and the fragrant Spring arrives in glory to our reaches.
To celebrate this awesome coming Royal Treasury announces the sale of most uncommon and rare goods -
Dryad's Caskets and Small Box of Butterflies
!
Starting from now and up to March 14you will find Dryad's Caskets and Small Box of Butterfliesin the Premium Store.
That's what you can obtain in Dryad's Caskets:
·
Spring Fireworks
- fireworks from the first spring flowers.
·
Flower Fireworks
- bright rosebud fireworks to salute all the fair ladies.
·
Flower Mead
- this thick, sweet beverage quickly restores your energy and fills you with the happiness of Spring;
·
Cranberry Pie
- a hot pie with berry filling - perfect for staving off hunger!
·
Spring Flower Seeds
- collect 30 parts to create the Druid's Steps decoration
·
Dryad's Garment Sprout
- collect 30 parts to create the Dryad's Garment female suit
· Various special items, seals summoning monsters, rare loot, gems and so on.
That's what you can obtain in Small Box of Butterflies: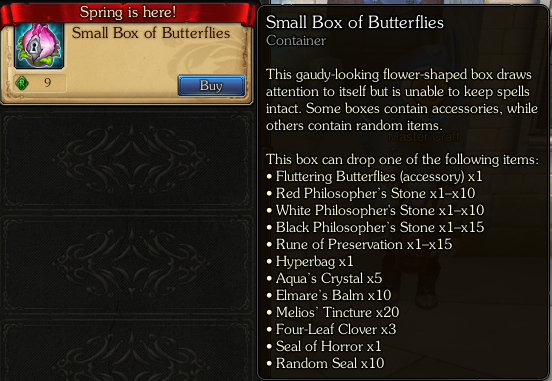 Touch surprising ancient mysteries of Dryads! Open magic Caskets to obtain unique garment and flower petals steps, apparent signs of Spring blossoming in your heart!
Source: https://us.royalquest.com/forum/index.php?/topic/3443-spring-magic/
---