Angel's Carnival is going to start on Grace Continent! Why not seize the chance to get the new outfit --Silverfrost Armor? Collecting Pumpkin Pies and Turkey Dinners as exclusive tokens in-game and exchanging special items from Jan. 9th to Jan. 13th! Play hard and win big!
Event Time: Jan 9th to 13th
Entrance: Carnival icon and Events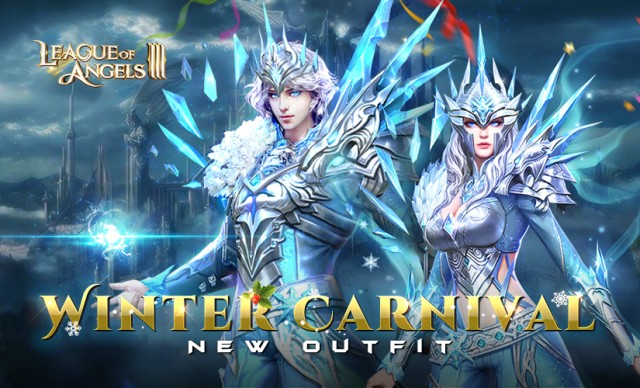 --What is Angel's Carnival?
This story goes far back to the beginning of the Wraith War.From the day the war began, the entirety of Grace Continent was wreathed in unending flames and destruction. Entire populaces lost their homes and livelihoods, forced to wander the world looking for the next safe refuge. The young Angelic sisters Glacia and Mikaela were separated from the start of the calamity before either of them could resist.As a pure-blooded Angel, Glacia's birthright was to ascend to great heights as a keeper of justice and vanguard of good. However, the pain of being separated from her sister, Mikaela, scarred her deeply. She spent years wandering Grace Continent, looking for her sister to no avail. During this time, Mikaela lived in constant fear and believed that Glacia had abandoned her.As time went by, the two estranged Angels had completely different lives: Glacia established the Angel Alliance and was recognized by the Divine Edge, and Mikaela founded the Angel Empire.Over the years, love turned to hatred. When they finally met again, Mikaela named her Divine Arma with her sister's name and so as to memorize the reunion, Glacia set this day as their birthday, which is now known as the Angel's Carnival Holiday!
--What's fun in the Holiday Event?>> Obtain exclusive tokensMikaela uses Thanksgiving cards to show love and gratitude her sister Glacia, and you can use them to win awesome rewards. Thanksgiving Card canbe get via Topaz Recharge, Diamond consume, login and other ways. Use your Thanksgiving Card and Topaz to spin the machine and you'll be able to win a ton of items and exclusive tokens like Turkey Dinner and Pumpkin Pie, and even Thanksgiving Card. The 2X, 5X rewards willbe come out randomly if you are lucky enough!
>>Exchange New Outfit-- Silverfrost ArmorUsing Turkey Dinner and Pumpkin Pie to exchange for gorgeous outfits like Silverfrost Armor and Head Sigil, and tons of special items at the shop. Once the outfits are permanently activated and certain requirements are met, you can also obtain Turkey Dinners besides spinning the machine.
We wish all players enjoy the Angel's Carnival and explore more ways to play League of Angels III!
Please note that the above content might be adjusted due to changes in the development plan. Final updates will be determined in-game.
Source: https://loa3.gtarcade.com/events/18022.html

---