The X-server event Angel's Treasure will be available from Dec 29th to Dec 31st. Players will be able to obtainChain of Justice as Limited Theme Reward and other various items as Normal Rewards by consuming the Angel's Treasure Lottery Ticket (Abbreviated as "AT's Lottery Ticket") to spin the wheel.Check below for more details.
Event Time: Dec 29nd to Dec 31st (server time)Server: X-ServerEntry: Click "Angel's Treasure" icon in the game interface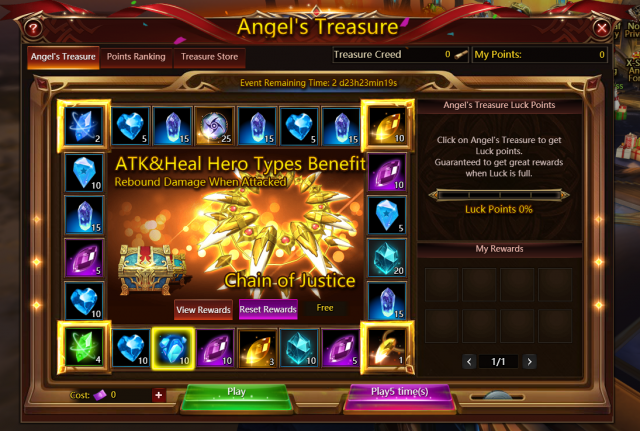 Event rules1.Players can claim 1 AT's Lottery Tickets FOR FREE every day. Daily limits will be reset at 12 A.M. every day.2.Players can use Diamond or Topaz to buy AT's Lottery Tickets.3.Starting 5 times will guarantee Theme Rewards, i.e. Chain of Justice Random Chest.4.Players must stop the wheel manually (there is a slight delay after tapping). Whenwheel stops, players will get the indicated reward.5.Each attempt will grant 10 Treasure Creeds which can be used inTreasure Store to buy various items.6.Treasure Creeds will be emptied when the event ended.
Rewards Description1.Theme Rewards (limited) are placed in the four corners of the rewards pool. Players can claim all the remaining rewards when all the Theme Rewards are collected.2.Each attempt will grant points: 5 points for Normal Rewards and 20 points for Theme Rewards.3.Each attempt will grant 25% Luck Points. 100% Luck Points guarantee Theme Rewards.4.Players can get Extra 20 points when empty the prize pool.5.Players can be ranked when earning points more than 300 and win Super Prize when more than 2000.
6.Points will be cleared after the event and the reward will be sent by email whenevent ends.
Chain of Justice is a powerful Legendary Relic, which will add enormous attributes to the ATK and Heal heroes. It also has a chance to reflect the damage the ally receives back to the enemies once it's unlocked.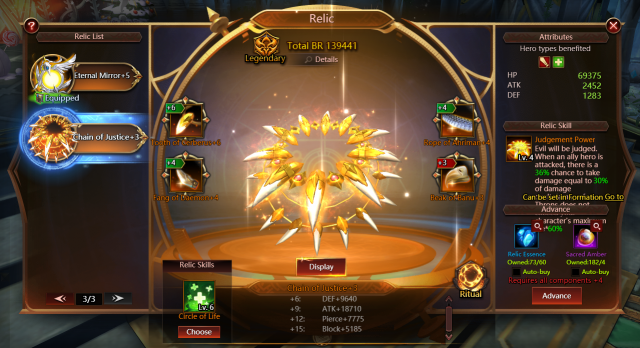 As it's an X-server event, you'd better get points as possible to rank higher and win Super Prize like Lvl.6 Exclusive Gem Chest and Epic Gem Combine Scroll! Make sure that you make the most use of your points and Treasure Store during the event!
Note:Please note that the above contents might be adjusted due to changes in the development plan. Final updates will be determined ingame.
Source: https://loa3.gtarcade.com/events/17869.html
---