Celebrate the Winter holiday in Grace Continent with Angels! Spin the lucky bar in X-Server Angel's Fortuneevent and try your luck to win rewards within 3 days!
A New Lottery event with special rules to test your lucky value even more! X-Server Angel's Fortune, where players are able to spin the lucky bar and win awards, will be held ingame from 26th to 28th in December. During the event, players can buy tickets and enter a chance to WIN AWESOME REWARDS and even obtain JACKPOT PRIZE when special patterns are lined! Act now, warriors!
Event Time: Dec 26th -- Dec 28th (server time)
Server: Cross server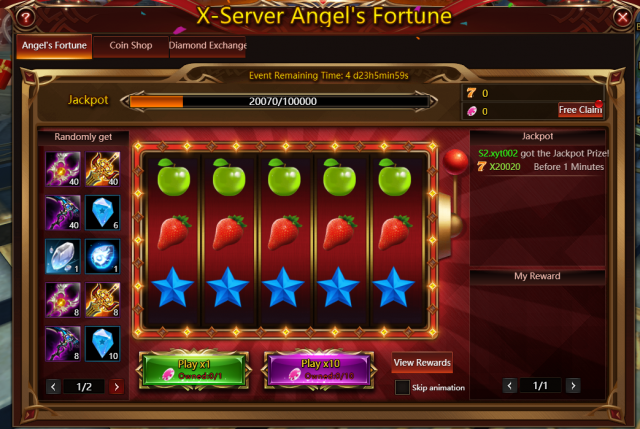 Rules:
1.Players can play the lucky bar by consuming Fortune Vouchers which can be bought with Diamond, Fortune Coin, Topaz or Gold Leaf in game. Each play will get random rewards;
2.Players can claim 3 FREE Fortune Vouchers each day.Free claim will be reset at 12 A.M. every day;
3.Each play will grant Fortune Coins which can accumulate the Jackpot Prize Pool;
4.Players can use Fortune Coins to buy rare materials such as Holy Crystal and Memory of Asherah Sigil, and exchange diamonds;
5.Exchange attempts will not be reset during the event. Angel's Fortune Coins will be removed after the event ends.
Rewards:
1.Different levels of prizes given when 5 of the same symbols listed below appear;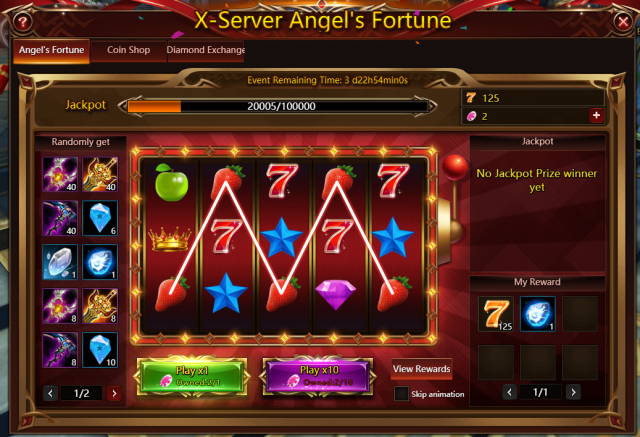 2.Jackpot Prize will be given when 5 of the lucky "7" symbol appears in the middle row. Jackpot Prize consists of the Coin reward listed below plus the entire Jackpot Prize pool;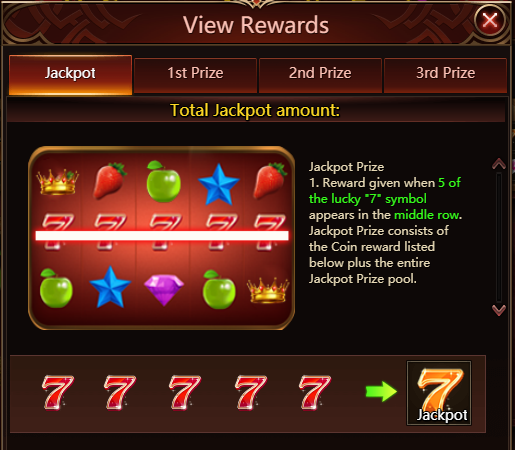 Note:
Please note that the above contents might be adjusted due to changes in the development plan. Final updates will be determined ingame.
Source: https://loa3.gtarcade.com/events/17771.html
---