As the fever of the 2018 World Cup fades and the spooky Halloween hasn't yet started, angels on the Grace Continent usher in their annual summer festival! All players are invited to join us in one-month carnival starting from the first week of September! From in-game summer-themed decorations, special costumes, legendary heroes, mounts and Divine Armas, to exciting GvG game modes, cross-server features and events, League of Angels III is determined to provide the best ever summer festival to all the players this September! Read on to snag the sneak peek.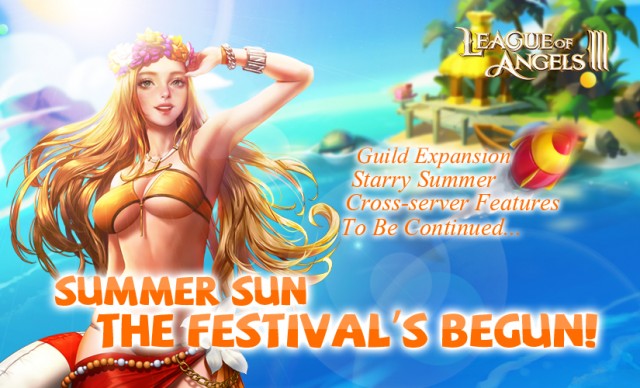 Starry Summer Themed Decorations
Parasols, swim wings, chaise lounges, ice cream and fancy costumes… that's what we call summer! All those summer-themed decorations will be found in main cities and other places in game starting from the first week of September. Are you ready for the summer vibes?
New Suit Starry Summer
Dress up fancy costumes and head for the beach! Join us in the summer festival in League of Angels III and get a chance to win the special suit this September. Stay tuned for the great outfit and attributes it will add to your character!
A Feature-rich Guild Expansion
Clash with guilds in the ultimate war! League of Angels III's upcoming update 3.0.0 has a feature-rich guild expansion to get all our fans buzzing at the very start of the one-month summer carnival! Introducing the long-awaited GvG feature—Guild War, where you'll be fighting alongside your comrades for the champion hall and gets a chance to win amazing rewards including a legendary mount and special titles! Make sure you've joined a guild and sharpened your weapons when it starts!
No matter what your B.R. is, your guild needs your contribution to make it an unrivalled one. A new building named "Skill Hall" will be added in Guild at the first week of the summer festival. By contributing to the Guild, you'll be able to significantly raise the attributes of your deployed heroes, including their ATK, CRIT, HP, DEF, DODGE, BLOCK, EDU and more. It's exciting to have one more way to watch your battle rating soar, isn't it?
You can also get assistance from your Guild members to build an elite squad of yours. By simply making a wish of Stamina, Challenging attempts in Trial and Realm and even shards of Heroes and Equipment, you'll take a leap every day with the help your Guild members. Get ready to unleash the power of your Guild with the new features!
Cross-server Features and Events
Just as the official launch of League of Angels III eliminate the language barriers, the updates during the grand summer carnival will tear the sever boundaries apart. New cross-server features and events, which aim to bring the most thrilling competing experience ever to all LoA III players, are now under development! So stay tuned!
In addition, a legendary hero with her Divine Arma, a new mount and more fantastic events will be unveiled in the next weeks of the summer festival. Be sure to join us and seize the chance to take your beloved items!

A news panel will be added in game where you'll be able to check all the latest news, events, features, updates about the summer carnival and everything that's coming to game in the future. Keep yourself updated on the carnival!

The summer carnival has begun! We hope all our players will enjoy the summer festival and stay tuned for more great content to come!
---