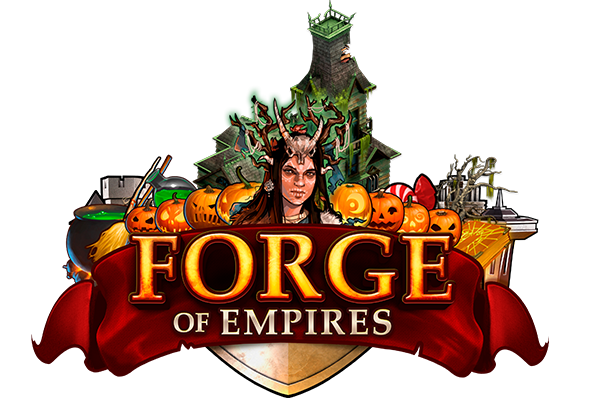 ​
Join us, if you dare, for this year's Halloween event starting on 15th of October.
Our Game Designer, Micha, is seeking a book in an old and dusty library. Can he find what he's looking for? Or does he need help from a mysterious figure... find out more in the video below:
​This year's Halloween season, we've transformed the conventional questline of years past into a fully-fledged event. An old ghastly library has to be uncovered. Exchange candies for special tools in order to get rid of thick cobwebs blocking your path to some rare treasures. In this year's event questline, a Death Druid seeks your help in rekindling ancient stories. Listen carefully as she regales you with dark tales. With the help of the old Librarian she will offer you 52 quests in total. You'll receive 30 rush quests, and then 22 quests, with one appearing each day. Quester beware, you're in for a scare!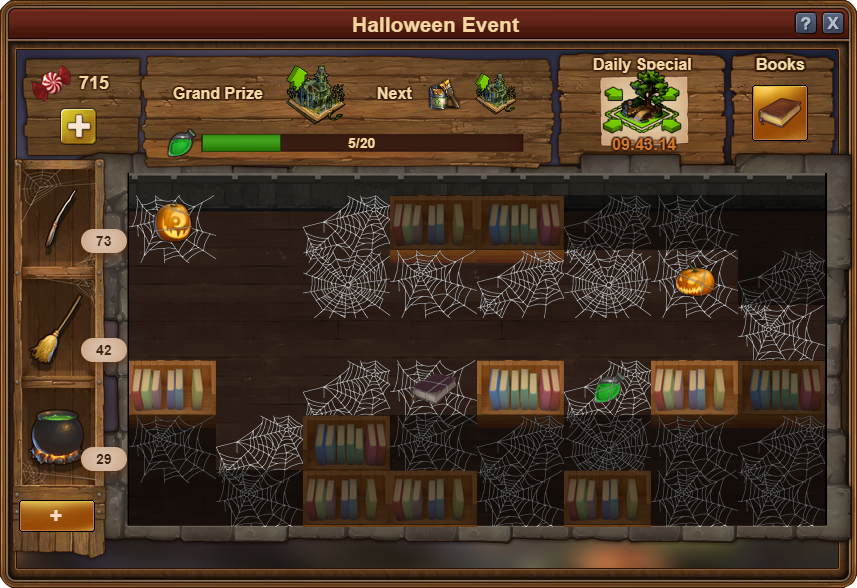 ​Upon opening the event window, you will see the dusty library filled with bookshelves and cobwebs. Make your way through it, cleaning the cobwebs with the tools available on the left side of your event screen: A wand, a broomstick and a cauldron.

​But Trick or Treat isn't the only way to earn candies at Halloween! Complete event quests, and you will be rewarded with candies that you can exchange in the Witch's Shop, in order to get more tools to help you to uncover hidden prizes. You can also find candies in regular incidents around or in the outskirts of your city. Use the tools wisely, as each has a specific area of effect that helps you to make your way through the library, where you'll find hidden
Pumpkins
that contain rewards of different values, as well as coveted
Potion Vials.
If you're lucky, you'll also stumble across
Books!

​Books? What do you need Books for? For the first time in an event, you will now collect multiple short questlines as rewards within the library (these are an addition to the conventional questline), and at the end of each questline, a special reward will be granted to you. This also means that you'll be able to potentially work on multiple quests simultaneously.
​

​These books can be found while advancing through the lost library, and whenever you collect one of them, it will be available to activate in your own personal library, which can be accessed in the main event window. You can simultaneously activate as many questlines as you like, as long as they're not the same! When you finish one, a check-mark is shown next to that book. You can find and collect more than one of each book, and their chance of discovery varies depending on their rarity.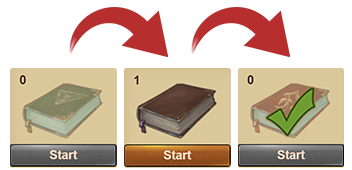 A book's state varies from 'not found', 'found' and 'solved'.
Once every book is found and solved, you can obtain a valuable librarian reward by selecting "collect" to the right of the reward.


So that's the tricks, now here come the treats! This year's Grand Prize is a brand new building, the Abandoned Asylum!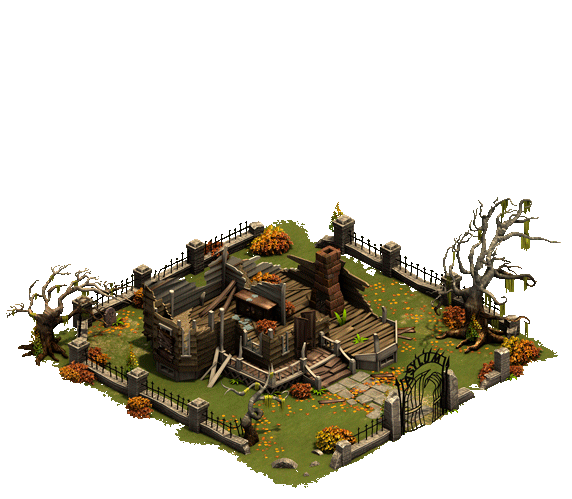 Grand Prize: The Abandoned Asylum is an upgradable 5x5 residential building with 9 levels

​The building and its upgrade kits can be gained through the grand prize and as rewards for milestones in the event quest line. To gain the Grand Prize, you will have to collect 20 potions in the library. Potions are a special prize that will bring you closer to the Grand Prize reward. Once you have uncovered 20 potions, you will receive the Grand Prize which is displayed at the top of the event window.
That's not all! If you missed your chance to participate in previous years, now you have an opportunity to claim some past items: the Haunted Tower, Dark Doorway, Mad Scientist's Lab and the Graveyard: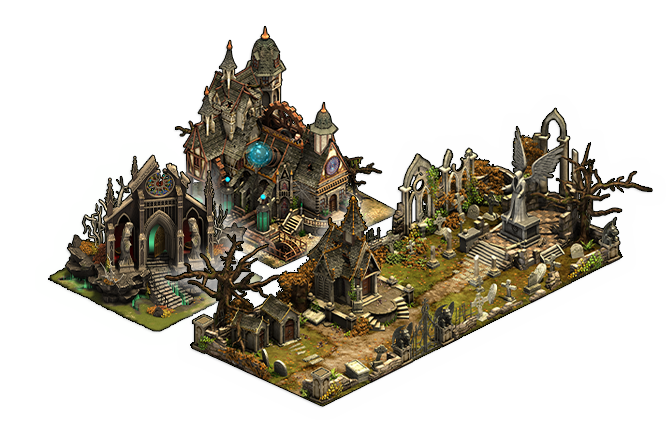 ​Lastly, as always, you'll get to show off your progress to your friends and neighbors, by obtaining one of two new themed portraits. These will be given in the main quest line: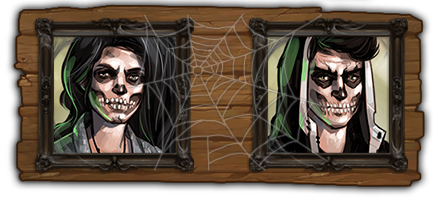 You can also obtain old avatars from previous Halloween Events scattered throughout the library:

​
You will be able to work on solving all the Librarian and Death Druid's quests until the 5th of November. Good Luck!
Should you have any comments or questions, please let us know! We're looking forward for your
feedback
Thank you for playing Forge of Empires!
Sincerely,
Your Forge of Empires Team.
Source: https://forum.en.forgeofempires.com/index.php?threads/halloween-event-2019.38174/
---