The sneak-peek of the upcoming interface changes will be split into two parts. The first part features screenshots, and the second a video.

MindArk would like to remind everyone that these previews represent a work-in-progress, and are not the final version of the interface changes. Therefore, we welcome opinions and feedback from the community to help us refine everything.

Feedback can be shared in this on PlanetCalypsoForum.com, or by contacting Community Relations Manager MyAnt on the Entropia Universe Discord: https://discord.gg/9YhKpFaF5C.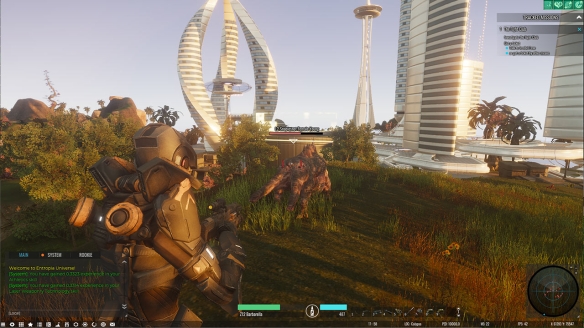 The screenshot above displays new HUD elements. At the bottom of the screen there is a new infobar panel that houses icons that previously crowded the screen. We have also included other information there, and compacted it down towards the bottom of the screen to remove it from the normal eye-level view. The small white icons at the bottom left of the bar provide quick access to the most commonly used menus, such as Options, Message Center, and more.

The bottom-middle of the screen shows the new Dashboard, where avatar health, current equipped weapon/tool, ammunition type, and cooldowns are displayed. We have moved the buff icons away from the Dashboard and placed them in the top right corner of the screen to reduce information overload.

The Tracked Missions panel at the top-right has also been improved. Our goal is for it to be as unobtrusive as possible, while maintaining readability and immersion. It can also be fully minimized, if desired.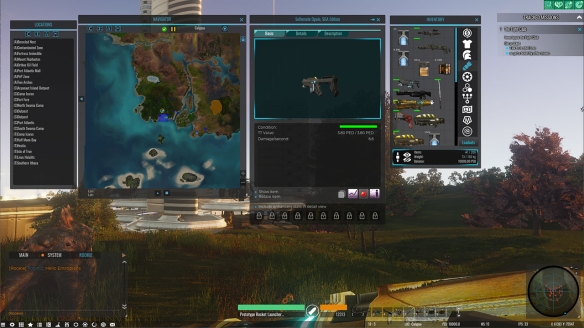 This screenshot shows the improved Item Information panel, along with the new Inventory panel, featuring more modern, minimalist icons and styles for the windows. We made an effort to employ a color scheme that works well in both daytime and nighttime lighting, so that the windows are always visible and readable. We have also made minor changes to the layouts to improve usability and navigation.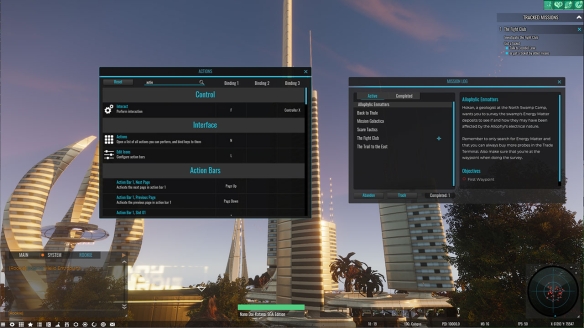 A good example is the new Action Library. This is an improved version of the previous "Action Book" with a more minimalist style and some added features, such as direct keybindings and an improved overview of both keys and actions. All Actions are searchable, to more easily find the action you are looking for. Once an action has been located, it can be directly dragged onto the Action Bar while in edit mode.

The design of Action Bar interface has been made more similar to familiar MMO conventions, with different pages of modifiable actions that can be dragged to the Action Bar, which can also be moved and locked to ensure it is not accidentally altered.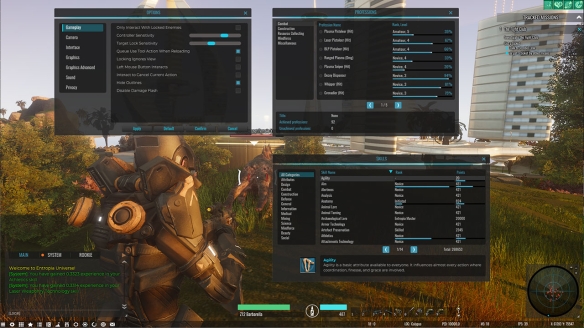 This last screenshot provides a sneak-peek at some of the redesigned panels mentioned earlier, such as Options, Skills, and others. We have added new tabs, buttons, backgrounds, fonts and colors, synthesizing the combined look of the UI to further consolidate the overall look and feel of the interface as a whole.
Disclaimer: This is a work-in progress and not the final version.
---
Source: https://www.entropiauniverse.com/bulletin/buzz/
---