Several impactful changes to core systems and items are coming June 19.
When the Blade & Soul: Empyrean Shadows update goes live on June 19 (and when you decide to take a break from the new Fishing we're adding to the game), you'll notice that we've included some sweeping changes to the game to better match the game's latest content. We'll have full details in the Patch Notes the week the update goes live, but for now, here's a preview of some of the changes we're including for this next big update.
Systems Changes
Daily/Weekly Challenges
Given that most players have at least one Level 60 character, we will update the rotations for the daily and weekly challenges to better match player power levels with in-game content. We're also removing 3v3 PvP from the challenges due to the relative difficulty to complete those tasks.
We're also upping the rewards for completing the challenges with an additional reward for players who complete 5 tasks. Plus, at special times during the year, extra rewards may be available for completing 2 and 4 tasks, depending on the current event.
Arena/Battleground
We want to ensure that the Arena and Battlegrounds stay competitive, so we are modifying the hours of availability for all the PvP instances to match up with peak player populations. This should ensure plenty of other warriors are available to throw down. Here's a look at the revised PvP schedule, all times are in server time, and 24-hour format. We're sure this is going to cause a lot of discussion – let us know in the forums what you think about these proposed times.
Content

Current Availability

Updated Availability

1v1

24/7

Every Day

09:00 → 01:00 (next day)

3v3

24/7

Mon/Wed/Fri

18:00 → 21:00

WW Valley

Sun/Tue/Fri

06:00 → 06:00

Sun/Tue/Fri

15:00 → 01:00 (next day)

Beluga Lagoon

Mon/Thu

06:00 → 06:00

Mon/Thu

15:00 → 01:00 (next day)

Nova Core

Wed/Sat

06:00 → 06:00

Wed/Sat

15:00 → 01:00 (next day)
Items Changes
Weapons
We're introducing a new Raid weapon called Thornbreaker. It'll have six stages to evolve and can trigger the Thornbreaker effect which will grant a powerful buff for 30 seconds. Stack it five times for an even more powerful buff which will recover some of your Focus and even reset some of your skill cooldowns!
If you're close to upgrading your Skyforge/Shadowforge weapon (Stage 4-6) or your Grand Celestial weapon (Stage 4-9), you may want to hold off a bit, as those upgrade costs are going to be reduced with the update. We're reducing the costs because we'll be introducing new stages and new evolutions for the weapons, which we'll get into during the Patch Preview Livestream.
You can find full cost reductions on this Google Doc.
Belt
Players brave enough to try the Warped Citadel, the new 6-player Heroic Dungeon being introduced in Blade & Soul: Empyrean Shadows, may be rewarded with the new Imperial Belt. You will be able to evolve the Imperial belt into the new Conflux and Impetus Belts.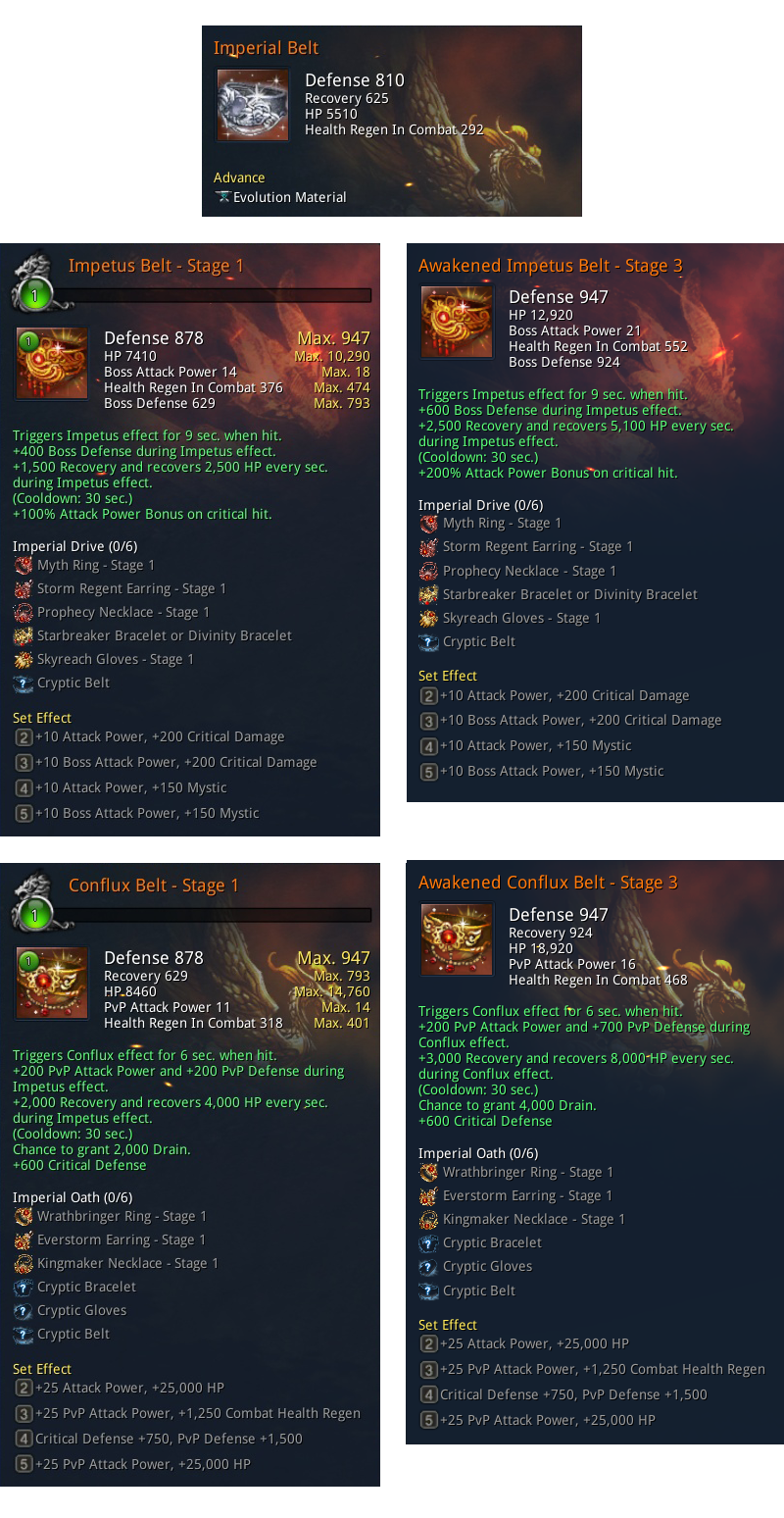 Soul
We're adding a new Soul upgrade called Brightwill/Everspark with the update. It's an upgrade from the True Tiger/Dragon Soul and should help players with the new content in Blade & Soul: Empyrean Shadows. And, like the Weapons, all existing Soul upgrades will be discounted. We're also making some changes to the Hongmoon Soul (formerly Hongmoon Energy Soul) upgrade paths, and we'll have more details on this later.
You can find full cost reductions on this Google Doc.
If you have any discussions or questions on any of these changes you'd like to start up, feel free to do so on the official Blade & Soul forums, and be sure to check out the patch preview livestream and the full patch notes in the coming weeks.
Source: https://www.bladeandsoul.com/en/news/empyrean-shadows-item-and-systems-preview/
---