Beat the quests and be royally rewarded!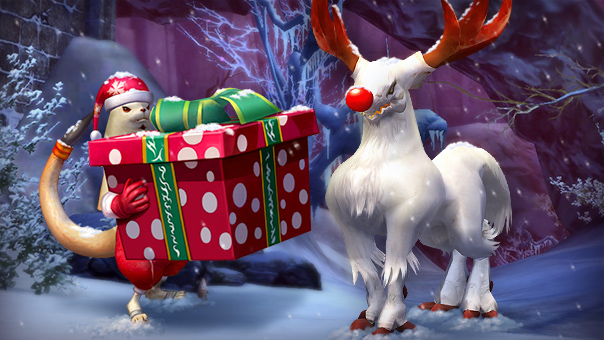 Running: 18/12/2019 to 8/1/2020
Prerequisite: level 76 to 80
The evil Large Baseball has concocted a wicked plan to manipulate the Lazy Shugo Couriers and stop Atreia's most important festival!
Some Shugos have fallen for his tricks, stealing the Daevas' presents and riling up the Ruddy-Nosed Grankers, causing them to flee to various regions across Atreia. It's now up to you to save the Daevan festival, and earn rich rewards for your efforts – such as the [Rune] Box of Kinah, the [Rune] Selection Box of Ancient Transformation Contracts (18 types) or the [Rune] Daevanion Essence!
The Hero Trials
Hunt down the wayward Shugos and Grankers:
Each Thursday and Sunday the Large Baseball himself will appear in Lakrum or Dumaha – the perfect opportunity to give him a batting! From Wednesday to Sunday you'll find the Lazy Shugo Couriers in Lakrum or Dumaha. From Friday to Tuesday you'll find the Red-Nosed Grankers either in Beluslan or Gelkmaros as an Asmodian, or in Heiron or Inggison as an Elyos.
Each quest will reward you with a valuable prize on completion.
Solorius Rewards
If you complete a certain number of hero trials, you can look forward to additional rewards:
4 of 18 quests completed, 8 of 18 quests completed, and 12 of 18 quests completed



Source: https://de.aion.gameforge.com/website/news/events/XmasHeroTrials_18122019/
---